River Leven.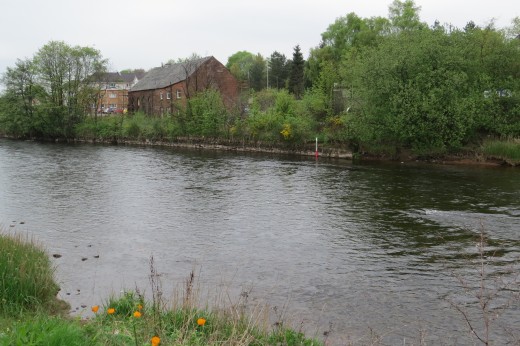 A few quiet weeks on the system, which is nothing unusual for this time of year. Even with the recent heavy rainfall the Loch level, which was sitting fairly low, hasn't been topped up enough to make a big difference. Well not enough for Scottish Water's purposes……and as we all know, that doesn't help the Leven.
We'd had reports of pods of grilse seen heading upstream and some unconfirmed catches. However things now seem to be warming up. On Saturday 9th August, at least two grilse were landed at the Bonhill Pool and one at the Glebe. There was also some good sport on Monday morning with Chic McLean landing and returning two fish (5lb) and (7lb), Mick Fries landing two and Bob McKinnon a fine (10lb) summer salmon at Sandy Hole. Then the gates closed….back to summer low again. So there's fish there, but not many anglers on the banks.
A good head of sea trout in the river, especially on the nightshift….. On 5th August, Ross Macleod enjoyed some classic 'after dark' angling with a three pound sea trout coming to a teal blue and silver. Our rep. David Watt reports numbers of sea trout pushing up to Renton with the tide, but not keen to continue into the warmer water.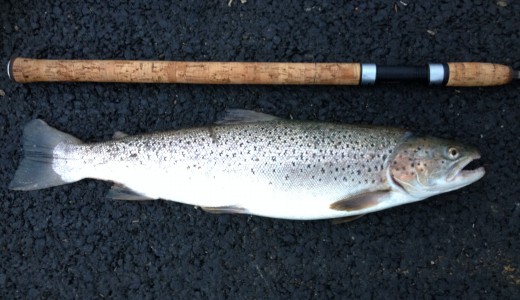 On 29th July Glasgow University Angling Club members Craig Carr and Harry Jackson went in pursuit of sea trout. Craig landed this (4.25lb) specimen, a personal best. Harry also enjoyed good sport with a (3.25lb) fish…where did they catch them?…..on the system of course!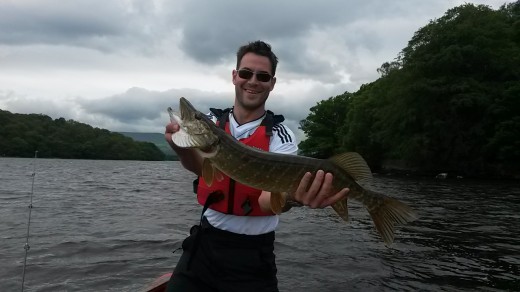 Earlier in July, visiting angler Marcus Schmiedehausen and his friends, from Nuremberg, Germany, spent a week in Scotland.  After visiting our website they decided to give Loch Lomond a try. He mailed us…
'I just want to let you know, that we had a really, really great time in Loch Lomond. We went one day pike fishing, cause all of the fishermen confirmed, that there was not enough water to go for trout and salmon with spinners.
So we took a boat and a bunk room in Balmaha and just have a look to the picture. I released him gently afterwards.
Attached to this awesome experience we met a lot of really nice people there. Everbody tried his best, in our opinion, to help wherever we went. Fishing Store Balloch, Balmaha Oaktree Inn, Boat renting, Hiking, Marshalls, etc.'
Thanks for that Marcus, glad you enjoyed your stay. Next time…….
Loch Lomond.
Over the last fortnight the Loch level has risen slightly and the surface temperature dropped by a few degrees. With these encouraging conditions more fly fishers are heading out, having sport with sea trout in the 2-5lb class. Latest updates on Balmaha Anglers.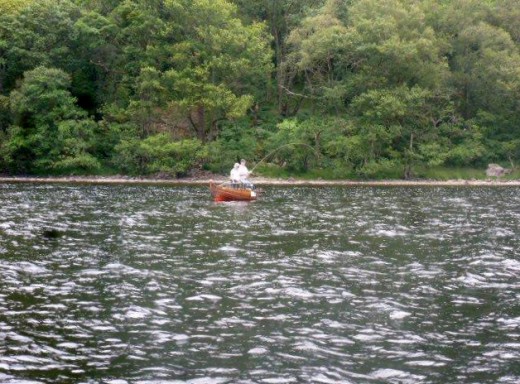 A good healthy rod bend, south of German jetty.
Some unconfirmed reports of grilse into Balmaha and Balloch, though boatmen are noticeable on the Loch by their absence. Very few anglers out during the week and there's no doubt that the grilse are in…so get afloat.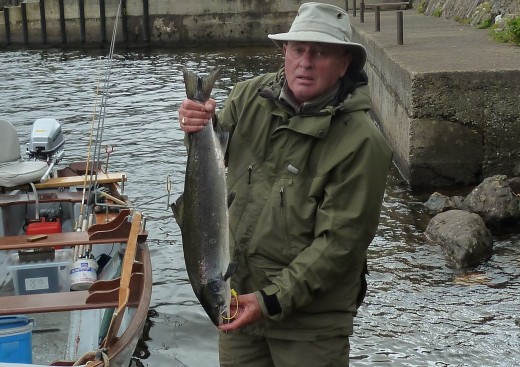 On Monday 4th August, the author landed this (9lb) summer salmon just south of Inversnaid, 'at the usual lie' on a copper and black toby. So fresh it must have come up on the back of a jet ski…… not been hanging about and didn't come up alone…
Lost or Hopeful?

Leven anglers recently spotted a strange bird frequenting the top Pool. Thinking that it might be some unwelcome predator our bailiffs investigated……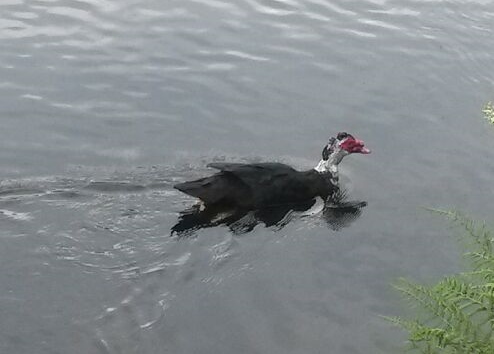 ….and found it to be a Muscovy Duck drake, normally found in the Mexico, Central/South America region. Won't find many mates on the Leven……..a nae luck duck! Well you never know, might be a few strange looking chicks about next year.
Great Scottish Swim 2014.
Anglers, particularly those heading out from Balloch, are advised that the Great Scottish Swim 2014 will take place over the weekend 22nd/23rd August. Open water swimmers will head out  from the Duncan Mills Memorial Slipway. Full information at www.greatswim.org/scotland
JR
Your reports, photos and info. always more than welcome.
Contact Reports at : reports@lochlomondangling.com