River Leven.
No shortage of water over the last couple of weeks and plenty anglers out enjoying some late season sport…at last. There have been stories of big fish lost, one at Linnbrane estimated to be 30lb and at least two in the 25lb class, one of which straightened treble hooks, so it's not surprising that the banks have been busy.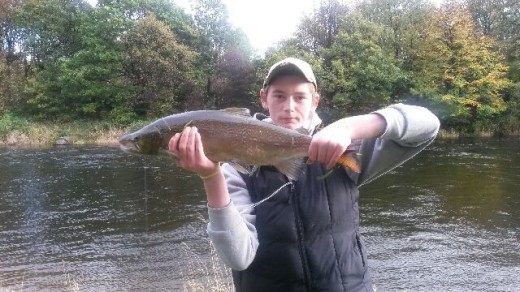 A lot of coloured fish in the system, like this (9lb) cock landed and returned at the Piles by young John Smith recently, only as you would expect at this time of the season, but still some fresh fish coming through. Other catches include: Alex McIlwee (6lb) and (18lb+). Paul Kelly (5lb) (6lb) and (8lb) all returned of course. Jim Fleming (9lb) today at the Piles on the fly.
Would all members and ticket holders please note that spinning is not allowed at the Bonhill Pool and it is strictly 'Fly Only'. There seems to have been some misunderstanding a few years ago to the effect that spinning was permitted on closing day. This is certainly not the case.
Loch Lomond.
Only really the dedicated band of fly fishers still active. Still some nice, fresh sea trout about with the north side of Lonaig well worth a drift.
Craig Carr from the University of Glasgow Angling Club sent this report: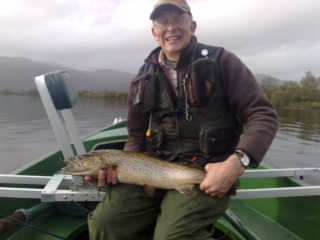 'Our University of Glasgow Angling club President Roger Parton was out on Loch Lomond recently & caught a lovely 6.5lb Seat trout off Inch Loniag (3/10/14 sorry no picture) & he was out again last weekend where he connected with another fine Sea trout of 6lb off Long point in a flat calm (see picture 18/10/14) also caught were some smaller sea trout as well as losing a much bigger fish on that outing. All fish safely returned to be caught next year!!!'
Thanks for that Craig. More reports are available on the Balmaha Anglers Website
Rivers Endick and Fruin.
Members waited a long time for conditions to improve on these spate rivers….. and so did the fish. Plenty now running both waters and some good catches reported.
Jamie Strachan reports: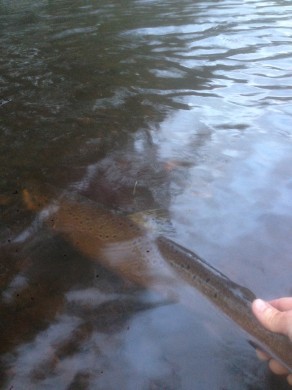 'Finally managed a nice wee cock fish out the river on Saturday the 18th, first on the fly for me and first off the Endrick so I'm pretty well chuffed with myself'
Well done Jamie!
Malcolm MacCormick Reports: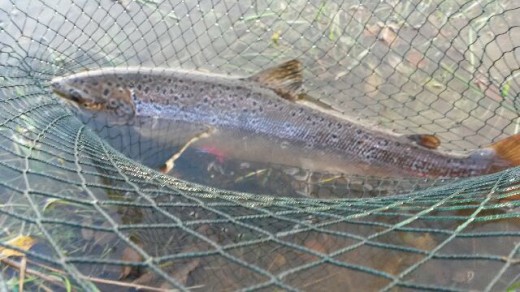 'On Saturday had a salmon of (6lb) on  the Endrick. Yesterday (29th) had five salmon, (12lb)(9lb)(6lb) and two at (4lb). The biggest was a cock fish of 32.5 inches caught below Fintry' 'Ben Marshall had one on Monday and hooked six yesterday, he only landed one though, about (10lb) from Coolies.'
Andrew McIntee sent this report:
'Hi. I thought I would let you know of the good days fishing on the Endrick on Saturday 25th October.  Fishing from Netherton down stream due to very strong winds I entered Coolies pool and got a knock from a fish on the swing and then slightly further down raised a good fish but no contact just before the burn. I then crossed the burn and fishing the fly round bang, into a fish of 9lb which was returned safely (had unusual bite marks on one side I though might have been a otter?). About an hour later I had two grilse one after the other of 2.5lb and 3.5lb in the round pool both returned safely. By this time the wind was really getting worse and was howling upstream I felt it was time to give up about 3.30pm.'
Thanks for your report Andrew, sounds like a day worth waiting for.
The Fruin has also been producing some nice fish and fresh grilse as Malcolm MacCormick reports: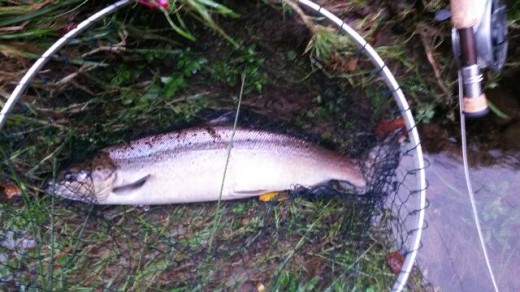 'Out today again, but nothing on the Endrick so went over to the Fruin. Had a fish about (4lb) and then a second (3.5lb) a fairly fresh hen'
Donald Cameron's Report:
'Had first fish from the Fruin, a (5lb) grilse and a (2lb) sea trout on Friday 17th. Sorry, no photos. Too busy thinking about returning fish.'
Thanks for your report Donald.
So plenty of fish in the system, pity it hadn't been a month or two earlier, but that's fishing. Always next season!
We'd like to remind members that catch returns can be made online via this website and should be submitted as soon as possible please.
JR
Contact Reports at reports@lochlomondangling.com