River Leven.
Now into July, and a welcome weather change. The heavy overnight rain on Thursday injected some life into the system and with a significant rise in the Loch level, the gates were dropped on Friday morning. Initially the river was running high and dirty, but quickly cleared and is now in great condition.
The first grilse, a small fish of 3lbs, was landed on 1st July by Ian Marshall above Bonhill Pool on a teal, blue and silver conehead.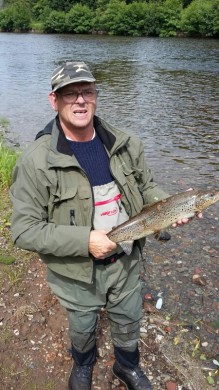 Some really nice sea trout in the Leven. 1st July, Paul McNeill landed and returned a 3.5lb specimen at the Piles.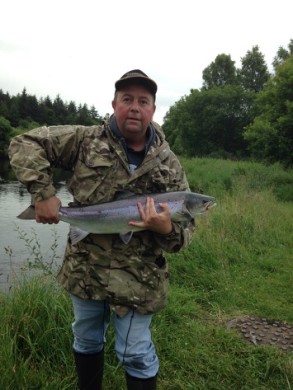 2nd July, our Leven rep. William Millar, (aka Woolfie), landed this fresh (13lbs) summer salmon at Mackinnons on the worm, showing that there are definitely fresh fish coming through.
Loch Lomond.
A quiet spell on the Loch but with the arrival of grilse and summer salmon in the Leven, things should pick up again very soon. More boats out during the week trolling and fly fishing, with a few venturing up to the 'Tap End' in search.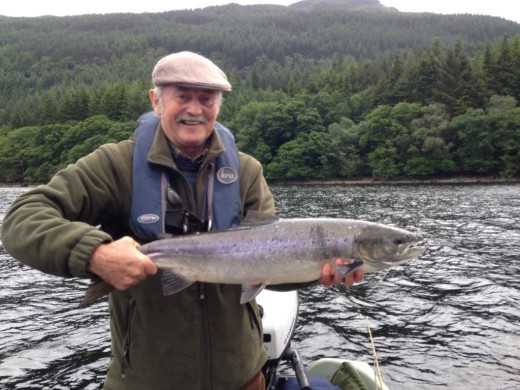 29th June, Balmaha regular Colin Lewis landed his second salmon (11lbs) of the season at Rowchoish. A quick trophy photo and safely returned. On the same date John Connolly had a fish around (12lbs).
Over the past ten years catches at the top end of the Loch have been in decline. The exact reason is unclear, but it's always a good, peaceful sail in great surroundings and the midges haven't been too bad. Remember that July tends to be 'clegg month' and they've still to make their presence felt…..
JR
Contact Reports at : reports@lochlomondangling.com