River Leven.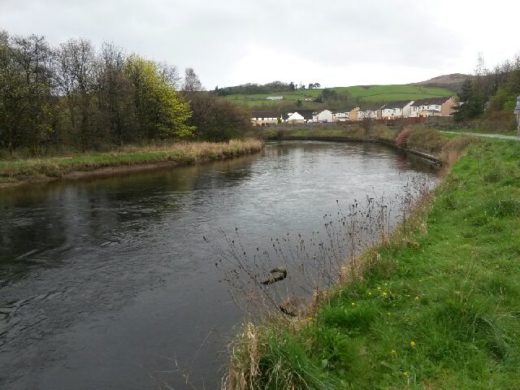 Great news from the Leven! Yesterday Chic McLean got his season off to a tremendous start with a 22lbs fresh, sea liced spring salmon. Chic was fishing at Ritchies Lade in the early afternoon when he lost a big fish. Shortly afterwards he got into another  and when he eventually managed to land it reckoned it was about 22/23lbs. It was safely returned. Unfortunately Chic's photo taken on his mobile wasn't very good quality. Well done Chic!….but time for a new camera maybe.
On Monday, with the Loch level dropping back,  Scottish Water raised the barrage to weekend height, but this should still make for reasonable fishing conditions. With the news of Chic's fish we expect Easter weekend may be busier than usual.  All anglers are reminded that any salmon caught before 1 May must be safely returned. Day tickets are available at our usual Permit Retailers.
We'd like to remind anglers that they should take all their litter away with them, particularly discarded monofilament line which can be particularly hazardous to wildlife.
Loch Lomond.
Strong cold, strong blustery winds during the week kept boats on their moorings but these should moderate over the weekend. With the news of big spring fish moving up the Leven we expect a few will be out on the Endrick Bank and Boturich shorelines. Balmaha angler John Bell reports a brief encounter with a good fish near Stewart's Hole on the Bank at the end of last week, which is hardly surprising since it it's three weeks since the first spring salmon was landed on the Leven and it won't have arrived alone. Just a matter of wrapping up well and getting out there…
Wildlife Crime.
Last Saturday several of our members witnessed a sickening sight in Balmaha Bay. A mallard duck with an arrow sticking out of its back. The sight of it is so pitiful that we prefer not to post the photo.
Our secretary contacted Police Scotland Wildlife Crime officers and forwarded the report and photograph.  We have since  learned that on Saturday morning the police attended a report of a female wearing camouflage clothing carrying a long bow and arrows having been seen in the Balmaha area. However they could find no trace. Acting on our report the RSPCA have now attended Balmaha, located the injured duck and humanely despatched it. We believe that this isn't an isolated incident. Last season anglers lunching on Inchlonaig found a similar arrow on the shoreline. It is requested that anyone with information or further sightings of the suspect should contact Police Scotland on 101.
JR
Contact reports at : reports@lochlomondangling.com