Membership and Marketing.
At the AGM the committee announced that marketing the LLAIA would be one of our main priorities. We are mindful that in order to attract anglers and potential members we need to advertise 'who we are' and' what we have to offer.'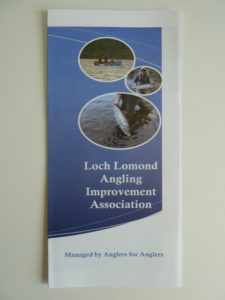 We have produced tri-fold flyers promoting game fishing on our system which so far have been distributed to over fifty tackle shops, permit outlets, Visit Scotland offices, hotels and other likely places where they'll come to angling public and visitors attention. A similar leaflet promoting coarse fishing is under development. Additional point of sale material for our permit outlets is being developed and will follow shortly.
New Members.
The committee are very pleased to announce that so far this season the LLAIA has attracted 38 new and returning members.  The majority of these members signed up during our re/joining fee waiver period which continues until 30 April. If you're already thinking about joining, act quickly and you can save the £25 joining fee. We wish all our new members 'Tight Lines' for season 2017.
Visit Scotland.
As part of our marketing strategy we have taken advantage of the free listing on Visit Scotland's extranet. This will help ensure that our profile and website can be viewed nationally and internationally attracting anglers from near and far.
We will be updating our gallery regularly and on the lookout for  good photographs to post. Our listing can be visited by clicking on the following link.
https://www.visitscotland.com/info/see-do/loch-lomond-angling-improvement-association-p1500821
We'll follow this up next year by including an advert in Visit Scotland's quality publication 'Fish in Scotland' Unfortunately this years booklet has already been produced.
Scottish Fly Fair.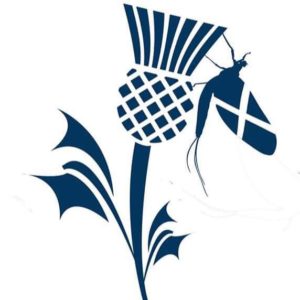 Scottish Fly Fair 2018 will be held at the Stirling Court Hotel, Stirling between 10th/11th March 2018.
'Scotland is full to the brim with outstanding fly fishing, some of the best fly tyers and casters, in the world.
 
Close to some of the most famous fly fishing water and with a host of the best tackle and fly tying brands, fishing outfitters, demonstrations, tuition, and bringing together some of the best fly dressers, fly casters and angling celebrities all in one fantastic venue in the fishing heart of Scotland.
 
Join us at The Scottish Fly Fair and discover a world of fly fishing possibilities'
The committee see this as an excellent opportunity to promote the Association and have booked a stand at this two day festival. We've plenty of time to plan our contribution so if you're interested and would like to help please contact the secretary at secretary@lochlomondangling.com
This is probably the first time that the LLAIA has embarked on a marketing project like this and we've a long way to go. Any ideas or suggestions which would assist would be most welcome. Please contact the chairman at chairman@lochlomondangling.com
River Leven Barrage.
Last year the LLAIA met with Scottish Water and Scottish Natural Heritage to agree a new plan for managing water levels on the River Leven. It had been noted by our bailiffs and members that the way in which Scottish Water were managing the flows was causing juvenile fish strandings. These incidences were investigated and a new plan was drawn up to give 'bank to bank'  height until the end of May annually ensuring that this wouldn't happen in future.
There has been some doubt among our anglers as to what the agreed levels should be and when.
The new rules are as follows: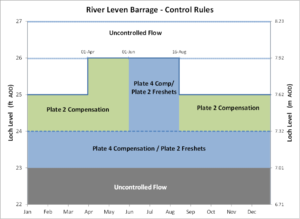 1 – ALL YEAR
IF Loch below 23ft
Uncontrolled flow.
2 – ALL YEAR
IF Loch between 23ft and 24ft
Plate 4 with Plate 2 freshets.
3 – 1st April to 1st June
IF loch between 24ft and  26ft
Plate 2 with no weekend freshet
4 – 1st Jun to 16th August (as requested by LLAIA)
IF loch between 24ft and 26ft
Plate 4 with Plate 2 weekend freshets.
5 – Between 16th August and 1st of 1st April
IF loch above 25ft
Uncontrolled Flow
IF loch between 24ft and 25ft
Plate 2, no weekend freshet.
6 – Between 1st April and 16th August
IF loch above 26ft
Uncontrolled flow
We contacted Scottish Water recently to express our concern at the rate at which the gates had been closed causing the river level to fall too quickly. They have assured us that this will be brought to the attention of their operators.
River Leven Committee Rep.
Following our recent request for a regular River Leven angler to join the committee we are pleased to announce that Mr Stuart McCallum has come forward and been co opted as River Leven representative. Stuart has fished the Leven for a good number of years and states that he hopes to help safeguard and improve fishing on the river. We wish him every success in this post. A dedicated mail address will be set up for Stuart but he can be contacted meantime by email at web@lochlomondangling.com
Regards
LLAIA Committee.