River Leven.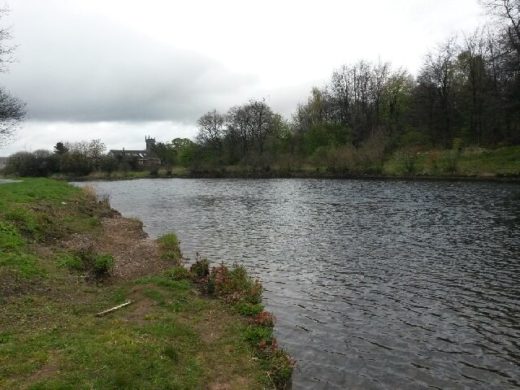 Still very cold on the river with north winds and the possibility of snow forecast this week. Not many anglers on the banks and even less reports of catches.
18 April, Ricky Gill landed a nice (9lbs) springer at McKinnons on a flying-c which was quickly returned. Photograph still awaited. No other reports.
Stuart McCallum has put himself forward to represent the Leven anglers on the LLAIA committee. Stuart has fished the river for a good number of years and hopes to help safeguard and improve fishings. We wish him every success in this post. A dedicated mail address will be set up for Stuart but he can be contacted meantime by email through web@lochlomondangling.com.
River Leven  Barrage Operation.
Last year the LLAIA committee met with Scottish Water and Scottish Natural Heritage to agree a new water level management plan. There has been some doubt among our anglers as to what the river level should be and when. River Leven Barrage Control rules are as follows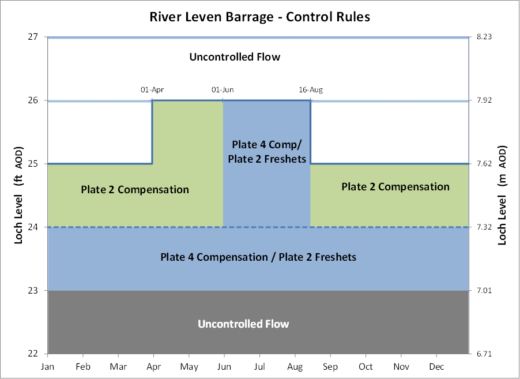 1 – ALL YEAR
IF Loch below 23ft
Uncontrolled flow.
2 – ALL YEAR
IF Loch between 23ft and 24ft
Plate 4 with Plate 2 freshets.
3 – 1st April to 1st June
IF loch between 24ft and  26ft
Plate 2 with no weekend freshet
4 – 1st Jun to 16th August (as requested by LLAIA)
IF loch between 24ft and 26ft
Plate 4 with Plate 2 weekend freshets.
5 – Between 16th August and 1st of 1st April
IF loch above 25ft
Uncontrolled Flow
IF loch between 24ft and 25ft
Plate 2, no weekend freshet.
6 – Between 1st April and 16th August
IF loch above 26ft
Uncontrolled flow
Loch Lomond.
We still await the first confirmed spring salmon to be landed on the Loch. Last weekend Euan McGrandle lost a good fish in Net Bay and a Balloch boat reported losing a fish about 13lbs so there are certainly fish about. Unfortunately the recent cold, strong north west winds have made going afloat a rather unpleasant experience.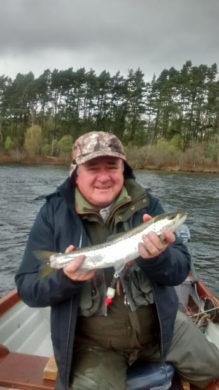 18 April, Colin McCrory and Angus MacRitchie set out on a tour of the island drifts for an early sea trout on the fly. Conditions were good but it seems there were few fish about. However, Colin managed this fresh looking sea trout at the front of the Crin……..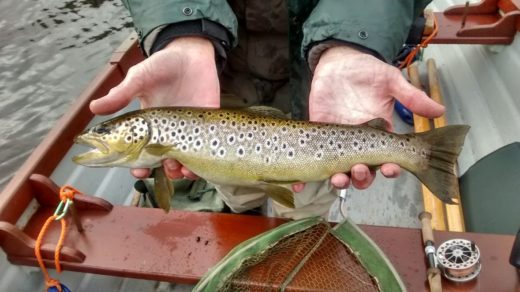 ….while Angus landed this 1.5lb brownie at the Ladies Point after losing a bigger fish.
Almost into May and the first Bank holiday. We all know that public holidays always produce fish on the Lomond System……
JR
Contact Reports at : reports@lochlomondangling.com