River Leven
Now into May and things are beginning to hot up….. you wouldn't think it right enough….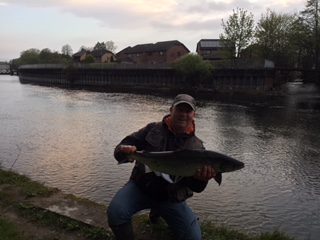 Derek Hughes got his season off to a start early this morning with a fresh (12lbs) springer at the Top Pool on the worm. It was netted by Alec Doey, whom he thanks, and then released.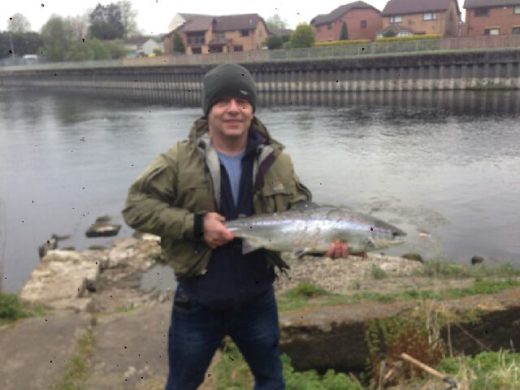 Later on, day ticket angler Derek McInnes landed this fine spring salmon (10lbs) also at the Top Pool on the worm. A quick photo and it too was released.
Worming is allowed from 1st May on the River Leven and while anglers must use circle hooks during May, we would encourage their general use. Anglers are reminded that under LLAIA Bye Laws they must not fish upstream from 100yards below the Barrage and must remain and cast from downstream of the yellow marker.
Loch Lomond
Public holiday weekends always produce fish on the Lomond system and it's one that Derek Rannachan won't forget in a hurry…..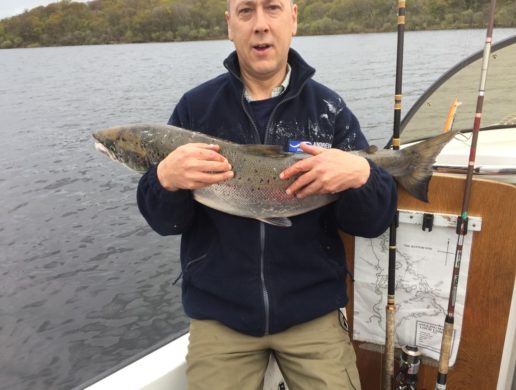 Derek reports….
'I launched at Duncan Mills Memorial Slipway and motored over to my usual starting spot at Pasty's stane. I had just put my lures out and within 2min my outside rod went. By the take I realised it was a pike but a good sized one. Fifteen seconds later my inside rod went and there was no doubt it was a salmon that was on this time.The wind was blowing north towards Inchmurrin and I was struggling to reel in both rods and line was getting pulled out rapidly. I decided to deal with the rod that had  the pike first. The wind was strong and pushing me out to deep water and after about 15 mins landed the pike.
I picked up the salmon rod once again and realised this was a big yin!, I was now drifting past the boat house still in a strong wind with this fish fighting hard. After seeing it for the first time I knew that I could do with some assistance . A few swear words did leave my mouth as I saw its back and tail on the surface and down it went once again. Forty five minutes had now passed and I thought to myself  'don't loose it, Derek take your time don't blow it'… like I did 14yrs ago with a cock salmon I reckoned was over 30lbs.. lost at the net.
I spotted a boat heading towards the boathouse and waved frantically at him. The chap was with his young son. He got his lines in and came over to me, tying the boats together. By now the fish was to the side of his boat so I jumped aboard, brought it to the surface and he netted it with ease. I could not believe how deep this salmon was and very much a typical Lomond springer. He commented on the sea lice attached to the fish however I was more interested in getting pictures of my trophy fish. It weighed at 19lbs, was quickly photographed and released. For the record it was hooked at 10.20am and landed an hour later near the old girl guide hut, approximately one mile from where it was first hooked. I was buzzing with excitement all day as this was my heaviest landed salmon in 23 years fishing this big water'
Sounds like a fair old tussle Derek….and the first off the Loch this season…a lovely fish, well done!!
While Derek was acting out 'The Old Man and the Sea', Scott Sinclair was discovering where Loch Lomond's sea trout have been hiding………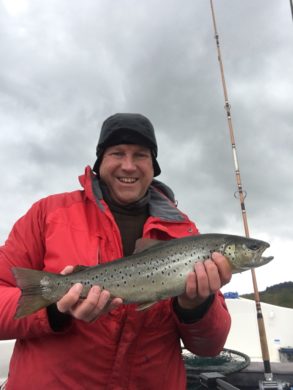 Early in the day Scott landed a (4.5lb) sea trout on the troll off the east side of Inchmurrin and later came across this (5lb) specimen off Boturich. Both fish were carefully returned. There are always some good sized sea trout caught in the earlier part of the season….before they head back down to the Estuary to feed again.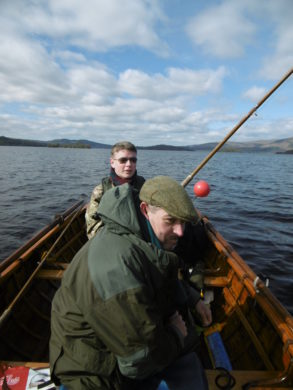 New member Arthur Martin tried fishing Lomond and used one of the great features of the full membership by bringing his son, as family members can fish on a full member's permit as long as the parent or guardian is in attendance.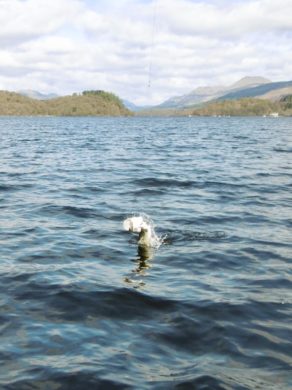 Although no salmon were caught, Arthur's son, Robbie, had some great sport with pike, and this is just the sort of encouragement that young anglers need to become the next generation of LLAIA members"
Good news indeed that there's a fish off the Loch. May can be a good month as the spring salmon make their way in from the River Leven.The bottom end off Balloch Park where Derek caught his fish, Boturich/ Claddich shorelines and the Endrick Bank all feature in early catches on the Loch. What we do need is a week of heavy rain to get things freshened up and encourage more fish into the system….. definitely time to get out there though…
JR
Email Reports at: reports@lochlomondangling.com