River Leven
A steady run of springers coming through despite the drought.
11 May, Craig Williamson sent his report…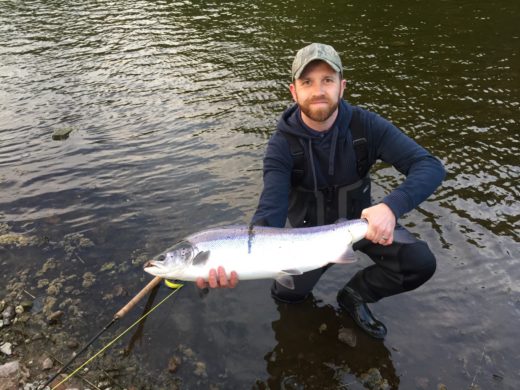 'Not long home after great couple hours down the Leven. Arrived at the river at 7.30 just in time for the bright sunlight starting to fade and at 8.10 connected with a springer at the Piles. Fish landed and after few pictures taken by a passing cyclist the fish was returned to the river safely. Would guess it to be around 12lb??
New member and new to fishing the double hander so absolutely over the moon with my first salmon off the Leven.'
Well done Craig…a fish you'll always remember and first of many we hope!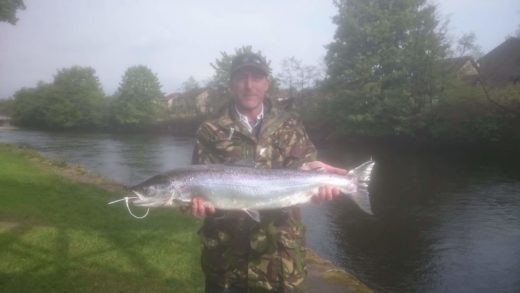 12 May, Frank McGeachie (10lbs) at the Stuckie Bridge, flying -c.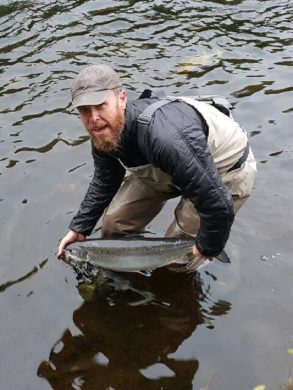 13 May, wasn't an unlucky day for Grant McIntyre (10lbs) at the Double Pipes on a cascade fly. After some great sport his catch was carefully returned.
Loch Lomond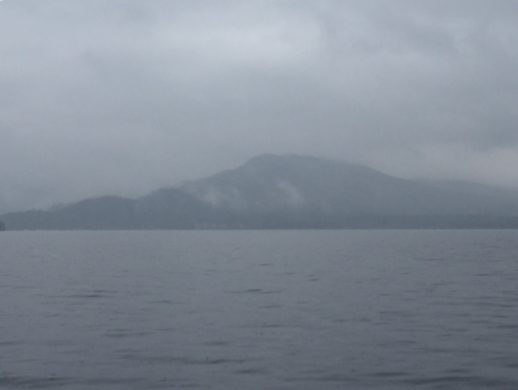 One of the many moods of Loch Lomond….. Saturday 13 May was a grey, dreich day with continual rain but it didn't dampen the spirits of Loch anglers. The bailiffs reported at least twenty boats out on the Loch. Some anglers were no doubt aware of the second confirmed spring salmon (13lbs) from the Loch caught on Thursday 11 May by Voldac angler John Connolly at the north end of Auchentullich Bay. One boat did have success. Stephen Gilfeather landed his first fish of the season (13lbs) at the Stables, one of the well known marks we expect to find fish at this time of year.
If reports seem a bit scarce over the next fortnight it doesn't mean that nothings happening…it means the regular web reporter's on an extended fishing break. Keep your updates coming and I'll catch up soon as I get back.
JR
Email Reports at: reports@lochlomondangling.com