River Leven
Now into June and our agreement with Scottish Water to provide weekend height during the week ends. Unless we have a fair bit of rain and the Loch level increases dramatically we'll soon be at summer low except with the weekend freshet. Nevertheless, plenty of good salmon still coming through daily. Our regulars know that even when the river's on it's bones' fish will still run and the pools are always worth a try. The past couple of weeks has provided some good sport…
Always good to hear of new members catching their first salmon on the Leven…something they'll never forget. Even better when it's quickly followed by their second…..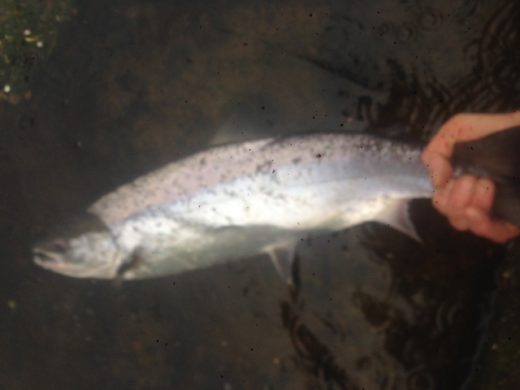 That's exactly how new member Craig McKerry's season has started off. 20 May, Craig has his first salmon (11lbs) at the Piles on the worm and on 27 May he had his second at the same spot  (9lbs) pictured above being returned. Good stuff Craig!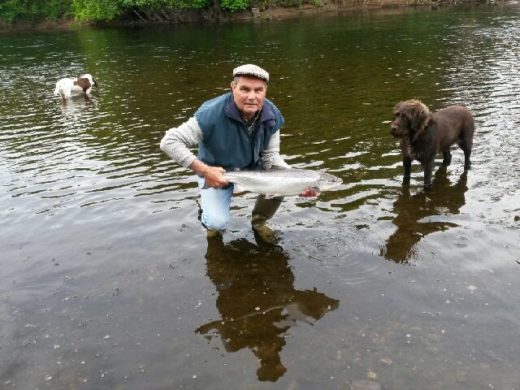 22 May, Chic McLean's canine companions watch with interest as he returns his latest catch (13lbs) at Pike Hole. He followed it the same day with another salmon (10lbs) at the Apple Tree, also released. Both fish took the worm.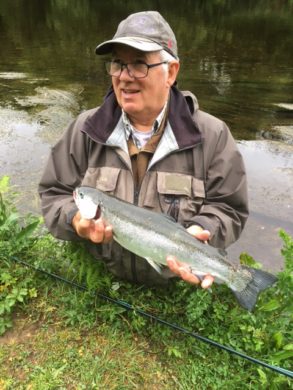 16 May, Tom Black with an unusual catch at the Stuckie Bridge. A blue trout took his Munro Killer tube fly. Rainbows and blues turn up on the system from time to time, more than likely having escaped from the Carman Dam above Renton.
Other Catches: 16 May, Stuart McCallum (15lbs), Alun Price (13lbs).29 May, Willie Little (14lbs) Top Pool on the worm. 2 June, Graham Dunsmore (11lbs) Bonhill Pool on a golden shrimp fly.
Loch Lomond
May started off rather slowly on the Loch and some anglers were getting rather concerned that our spring run wasn't going to arrive. However we knew that there had been plenty of salmon running the River Leven and only a matter of time before boat anglers lures started to find them. From mid May things have started to pick up with some lucky anglers now landing two fish in one day. June should continue in the same vein and then we'll await the arrival of the summer grilse.
Fresh fish are already moving up the Loch. 17 May, Billy Smart went out for a last hour and landed a fine, very fresh cock fish (20lbs) at Pilot Bay on a black and gold rapala. We can be sure it didn't head up there on its own.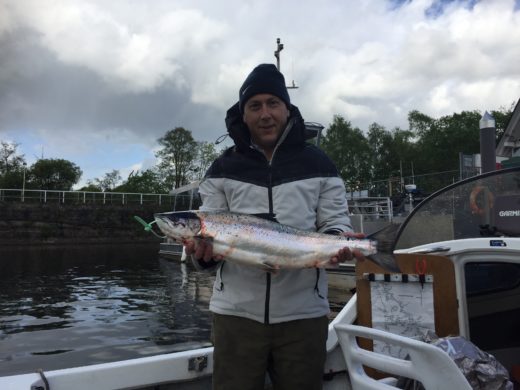 20 May, Derek Ranachan (above)continues his successful season with a fresh salmon (10lbs) off the north side of Inchmurrin. Earlier in the year he landed and returned a (19lbs) fish. on 29 May, he returned a smaller (4lbs) grilse sized fish caught off Balmaha which looked a bit on the thin side.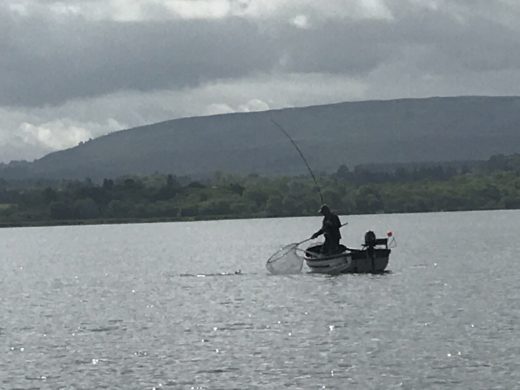 2 June, Loch regular Rab Strachan seen playing a salmon (13lbs) on the Endrick Bank which he successfully landed. It's believed he went on to land a second fish about the same size.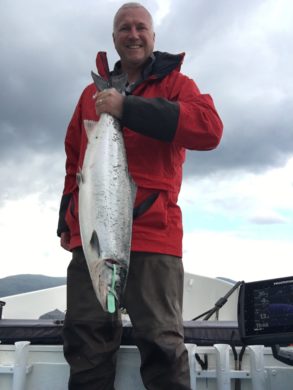 3 June,  Scott Sinclair always wondered what it would be like to hook into a salmon at the yacht club at Milarochy. He found out on Saturday but managed to steer this fresh fish (13lbs) away from the boats and into his net.
Other Catches: 15 May, Scott Pryce (11lbs). 16 May Scott Pryce (11lbs) – rtnd. 21 May, Denis O'Hare (13lbs). 22 May, Alastair Mair (13lbs). 23 May, Allan Coll (13lbs). 31 May, Danny Docherty (12lbs) and (15lbs) – rtnd. Peter Lyons (13lbs.)  1 June, Brian Follett (11lbs), Eric Donnachie (14lbs) and (10lbs). 2 June, Danny Docherty (10lbs). 5 June, Duncan Ferguson (11lbs).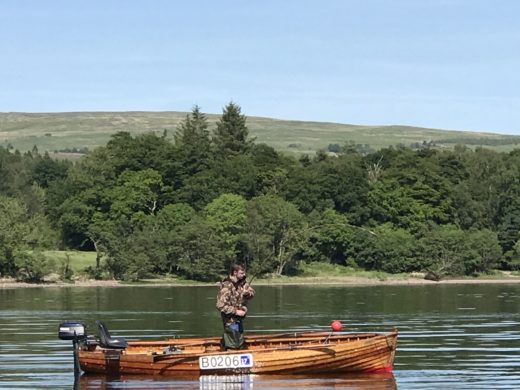 31 May, Balmaha angler James McGrandle with a right good bend in his rod…..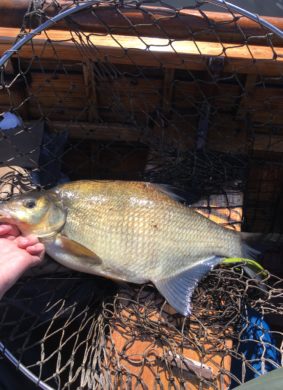 ………in the net a 6lb bream which had taken his toby.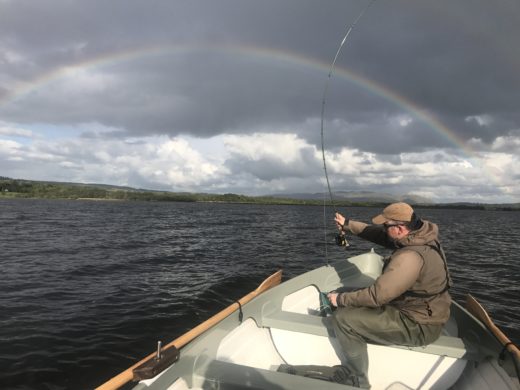 20 May, Colin Ferguson on the Bank trying to catch a rainbow on the fly….never succeeded of course.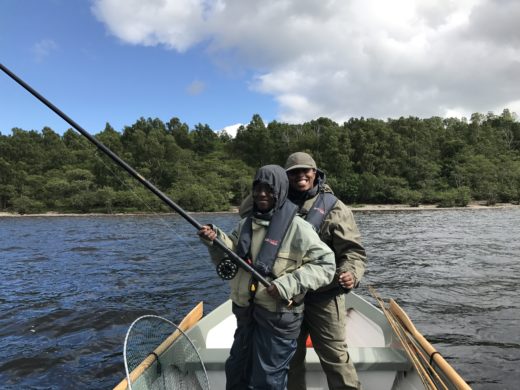 30 May, a couple of John Bell's guests enjoy a day out on the dap.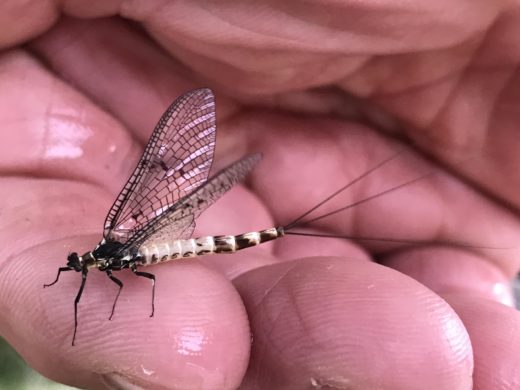 A seasonal Mayfly.  For some reason you'll still see them about on the Loch at the end of July. Never seen any of our trout show interest in them though.
Submitting Reports.
Always on the lookout for reports to keep our members updated. Anything of interest is always welcome. If submitting photographs of fish which have been dispatched please ensure that the 'tag' is clearly showing. Part of the Local Conservation Plan with regards to our Category 2 status agreed with Marine Scotland, was that fish killed would be limited to three and tags issued which must be fixed through the gill as soon as possible. We are aware through conversations with Marine Scotland staff that websites are visited regularly to see what's happening around the systems. We don't wish photos of fish without tags being flagged up to us, doubt cast on our conservation plan, then back to Cat 3 again. Anglers are also reminded that only one fish kill per day is permitted. Tags may not be very popular with anglers but a bit of plastic might make the difference.
River Leven Clean Up
The clean up will take place over the weekend 17/18th June meeting at Bonhill Bridge at 0930 each day. Starting at the top end and moving down river. Refreshments and gloves will be provided. All volunteers, anglers and friends most welcome. See you there…
JR
Email Reports at: reports@lochlomondangling.com