Submitted by
admin
on Tue, 08/08/2017 – 12:04
River Leven
Summer monsoons over the last fortnight were good news for Leven anglers. Last Monday the barrage gates dropped to the riverbed allowing an unrestricted flow. This has encouraged more anglers onto the river and bringing fresh salmon in. Grilse and summer salmon are already widespread across the system.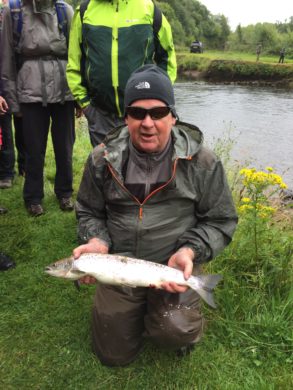 29 July, always good to hear of new members having success. Kilwinning angler Jim Mclaughlan landed this fresh grilse, which was returned, at McKinnons on a Wullie Gunn flamethrower. It was quickly followed by another which didn't stay on. Thanks for your report Jim.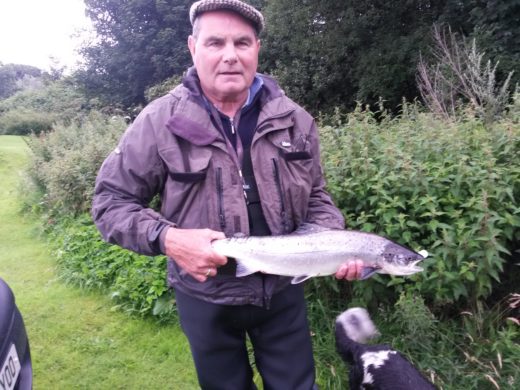 1 August, Chic McLean starts the month off well with a fresh (5lbs) grilse fly caught at the Apple Tree on a Black Francis.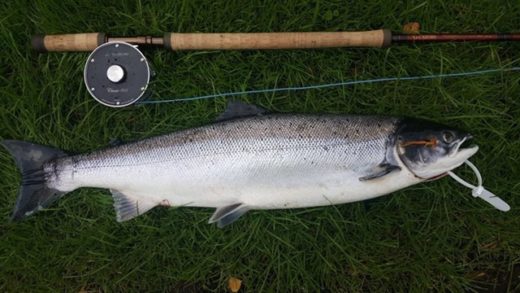 7 August, Robert Galbraith lands a quality summer salmon (11lbs) at the Glebe on a Gold Cascade.
Other catches: 5 August, John Maloney (15lbs) Linnbrane on a spun lure.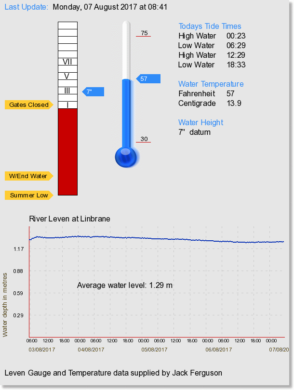 The Leven is still running fairly high but beginning to drop back slowly. More settled weather conditions were forecast over the next couple of weeks so take advantage of the extra water while we have it. Follow Jack Ferguson's daily River Leven conditions updates on our homepage. The most recent recorded water levels for the Loch and rivers across the system can be found at SEPA Water Level Data
Loch Lomond
Grilse and summer salmon have appeared in the Loch, not in great numbers yet, but it's also been commented that there's not many anglers on the water either…. Loch regulars know that it fishes best when the level is on the low side. So far this season it hasn't dropped much under the average and low water indicators such as the 'Lucky Chuckie' haven't been seen yet. When the 'Chuckie' shows you know you're in with a good chance…… If the Loch's high salmon don't tend to seek the deeper colder waters of the 'Tap End' and remain in the southern basin awaiting the call to spawn.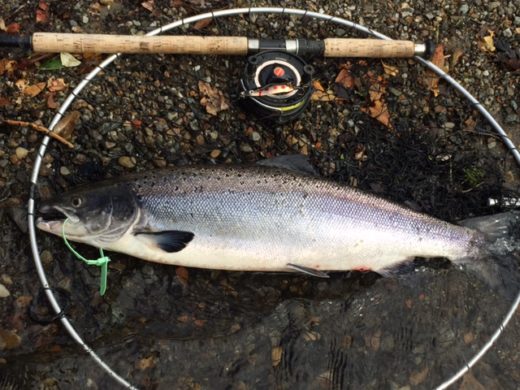 26 July, this (12lbs) cock fish decided otherwise and was caught off Inversnaid Pier by the author. Lice were still attached around the vent area and shows how quickly salmon will run the length of the Loch. Not many fish reported from the northern end of the Loch this year but you just never know…. but it's a good day out for the scenery and tranquility alone.
.
3 August, kayak angling enthusiast Paul Reid sent us this report….
'Hi There. I caught this double figure sea trout from my kayak while lure fishing for pike on the Loch. I estimate the fish at 14-16lb and it was 34-35 inches in length.  It was returned after a quick photo'
Just never know what's down there….thanks for your report Paul.
.
Other catches: 24 July, Scott Laird (8.5lbs) off Balloch Park. 30 July, David Smart (20lbs) Pilot Bay on a zebra toby.
.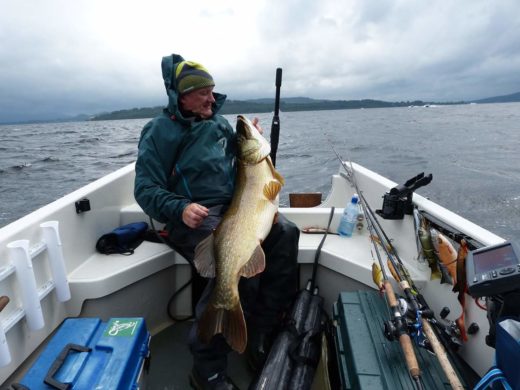 .
Another 40 pounder off the Loch! Balmaha based pike enthusiast Andy Carson recently landed this monster. It's the second recorded fish of that class this year and certainly keeps Lomond at the top in coarse angling circles. A pike fly fishing competition is scheduled for September and the chance of one of these 'beasties' on a fly rod is bound to attract a good following.
.
Rivers Endrick and Fruin

.
Some good spate conditions recently on the Endrick and Fruin and reports of fish moving up from the Loch.  The LLAIA stretches on these waters are strictly fly only and very much spate dependent but when the water's right there's some great sport to be had.
.
Endrick regular Colin Smih has recently been enjoying good sport…….
.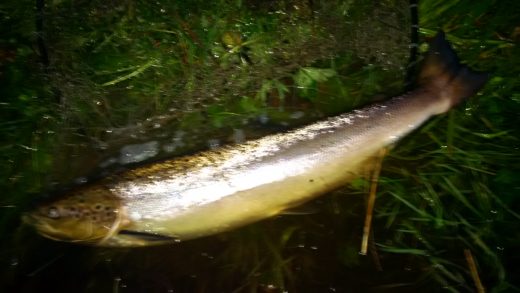 26 July…' Fish approx. 12 lbs. starting to colour, returned from top pool Drumtian  just before dark.'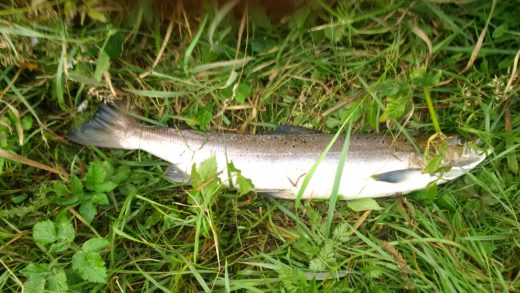 3 August….. 'I arrived at the river at approx.. 2pm to find it in full spate. By 8pm it was just about clear enough to fish. I caught and returned the attached fish approx.. 8lbs on my biggest and brightest fly.'
5 August…….'I fished Drumtian from 8am today in fairly low water. Nothing. Went up to the Oak tree pool at about 11am and caught and returned a clean grilse approx.. 6lbs'
…..so there's definitely fish about!…. Thanks Colin.
.
River Leven Clean Up
.
The Leven Clean Up is still scheduled for the weekend 26/27 August. At present the Loch level is sitting too high for Scottish Water to close the barrage to allow for riverbed cleaning. Recent weather outlooks indicated a more settled spell of weather for August. We'll hope that the rain stays off and post an update in due course.
.
Loch Lomond Fly fishing Competition 2017 – 2 September 2017

All proceeds to be donated to the Loch Lomond Rescue Boat.
.
This event is now well into the planning stages and general information as follows:
Angling will be from boats and by fly only including dapping.
The competition will be open to full members of the LLAIA and the general public as long as they are hosted by a full LLAIA member.
Times:
Registration can be at Balmaha boatyard and at VOLDAC between the hours of 08:00 and 09:00.
Once registered anglers are free to begin fishing.
Rules
· Entry fee of £5 per angler will apply.
· Angling will be by fly only including dapping artificial flies.
· No trolling gear allowed in any boat taking part.
· All applicants must be either full members or accompanied by a full member and have a valid permit for the day of the competition.
· All fish caught to be returned alive to the water. A tape measure will be supplied to each boat at registration and anglers should use this to measure the length of any fish caught. All fish caught must be photographed with the tape for the purpose of adjudication.
· Salmon trout and sea trout will all count.
· Anglers must return for the presentation of prizes by 17:00 to the sandy spit at the North East end of Inchmurrin to declare their catches. Any angler returning after 17:00 will be disqualified.
There will be a BBQ at the presentation of prizes with a BBQ or spit roast available depending on numbers. All participants are encouraged to attend whether you caught anything or not. A draw will be held in aid of the Loch Lomond Rescue Boat and all prize donations are most welcome.
Prizes
There will be prizes presented for each of the following:
Best salmon (by length)
Best trout or sea trout (by length)
Best bag (by total length)
Representatives of Angling Active, who are supporting the event, will be taking part and presenting prizes.
To register or for further information contact Colin McCrory at Balmaha, Tam McBride at Vale of Leven District Angling Club or Email web@lochlomondangling.com
JR
Email Reports at: reports@lochlomondangling.com
Content retrieved from: https://new.lochlomondangling.com/blogs/fishing-reports/lomond-system-news-08082017.