River Leven
'Grilse coming through'
At the beginning of the week Leven regular Dick Dickson's season finally got off to a start….
25 July: 'Things picked up on the river yesterday for me at last – a nice fresh 6 lb grilse, wee sea trout and another grilse on and off briefly. Floating line, wee cascade and soldier Palmer bob. Fished Dalquhurn Lade then moved down to McKinnons where I got the fish right away. Every pool I fished yesterday  grilse size fish were showing and the seal has been up at recent high tides. So a wee bit brighter if things develop'
Great news indeed Dick…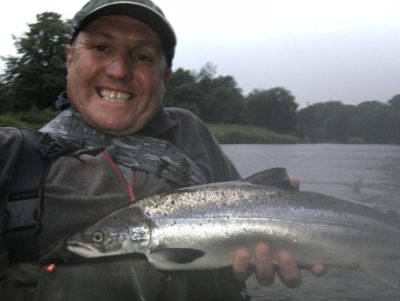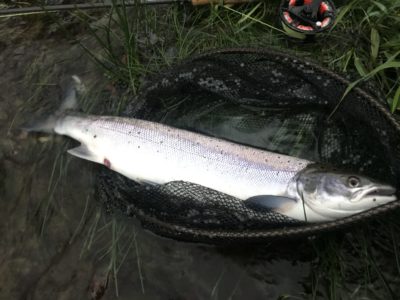 27 July: John Bell certainly has something to smile about.
'Went down the river about 8pm for a cast at the Piles. Lo and behold after 10 casts a fresh grilse about 5lbs'
You don't get any fresher than that!
28 July: John reports that went back out and lost another grilse at the same location.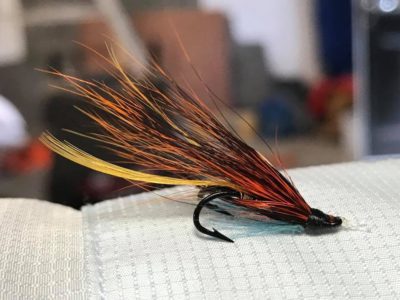 Both fish took John's own variation of a Stoats Tail double.
At last the rain came…The heavy downpours over the past few days will certainly encourage grilse and summer salmon to run.The Leven is in good condition so time to get out there…..
We believe that an angler was seen landing a grilse at the Piles on Saturday morning but have no further details
Loch Lomond 
No new reports of  salmon catches from the Loch and we can only assume that any fish in the Loch are still lying low. However the grilse run won't hang about in the Leven for long…. Still some nice sea trout appearing. With the sudden change in the weather the Loch will cool down and we should see fly fishers out on the usual island drifts.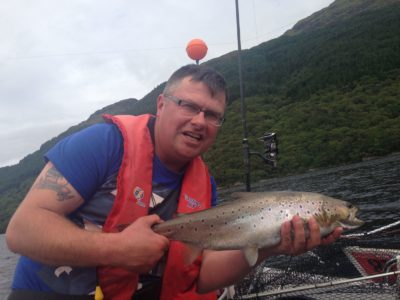 21 July: Richie Millar reports:
'Caught this on Saturday took a lure on downrigger. Hopefully can pick up more before end of trout season. Fish swam away strongly. Would like too know record for trout on Loch this fish weighed just under 4lbs.'
Nice fish Richie. Ferox or sea trout? Looks more like a resident. Back to the old debate…..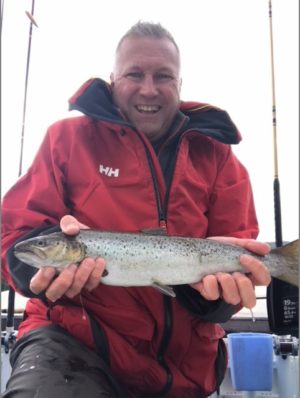 28 July: Scott Sinclair in no doubt that his latest catch was a sea trout commented..
'Looks like the same one from last week!
On the same date Alec Doey also landed a sea trout in the 11lbs class. The quality of Lomond's sea trout is never in doubt….just a matter of catching them!
Rivers Endrick/Fruin
Fishing on the Endrick and Fruin very much depends on spate conditions which is exactly what we are  experiencing now. Grilse and summer salmon will move very quickly up the Leven into the Loch and head towards our two main spawning waters. If the recent spate conditions continue we should see some good sport on both rivers.
River Endrick  work party has been called for Sunday 5th August. Grass cutting and river maintenance. Volunteers  required. Meet at Ballochruin Bridge at 10am. Refreshments provided.See you there!
JR
Contact Reports at : reports@lochlomondangling.com