River Leven
On Tuesday increased rainfall  meant that the Loch level had risen enough for the gates to be opened again. This was immediately followed by another run of fresh fish, mainly grilse, though we had an unconfirmed report of a 26 pound salmon landed at the Chapel Hole on Wednesday.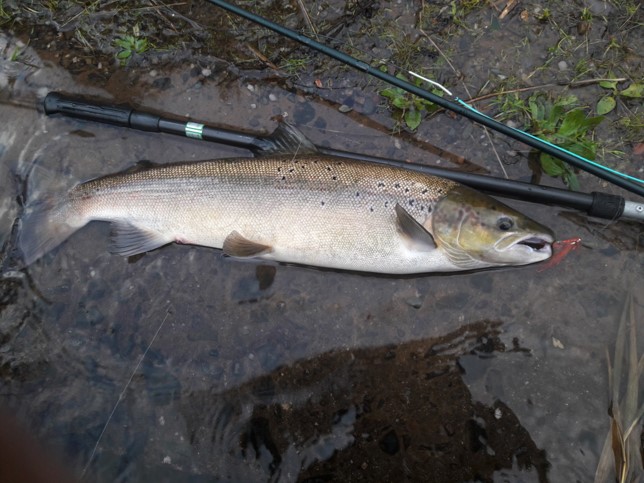 14 September; Jake McGarrigle landed this nice grilse (6lbs) at Dalquhurn Point on an Ally's Shrimp tube.
Other catches: 11 September; Chic McLean (5lbs)&(4lbs) grilse at Ritchie's Lade. 12 September; Jim McFarlane (7lbs) Top Pool. 13 September; Chic McLean (6lbs) grilse at the Bucks on a Cascade fly. Lee Cunningham (7.5lbs) at Linnbrane Hole. 14 September; Ricky Gill (5lbs) Dalquhurn Point. William Clarke (7lbs) Stuckie Bridge. Danny Connelly (7lbs) Dalquhurn Point.
Estuary
Low water conditions on the Leven over the summer suited sea trout anglers fishing the bottom end and those heading out onto the Estuary have been enjoying spectacular sport as sea trout gorge themselves on shrimp.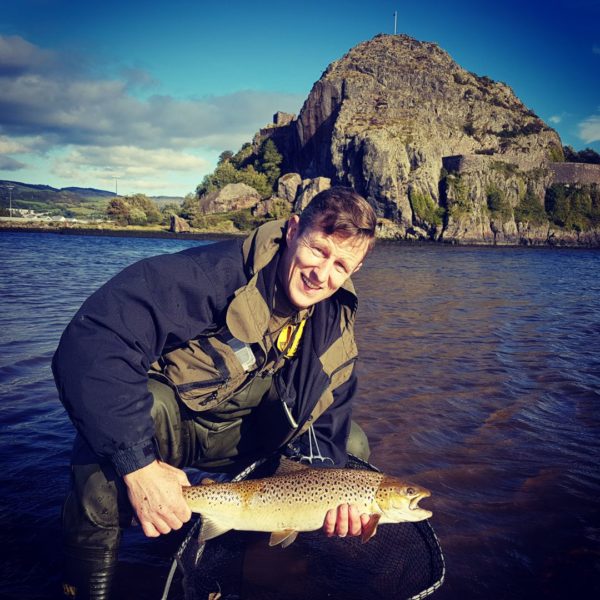 8 September: James McLay landed this plump (4lbs) trout off Levengrove on a spinner……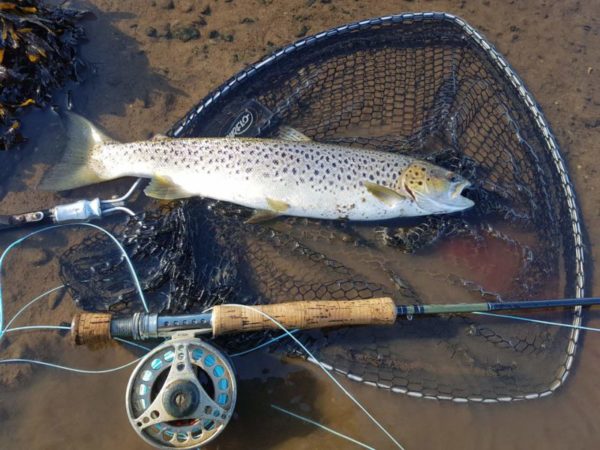 Colin Ferguson landed this trout (2.5lbs) on the fly at the same location. Fly fishing on the Estuary has grown very popular with specimens in the 4-8 pound class landed regularly.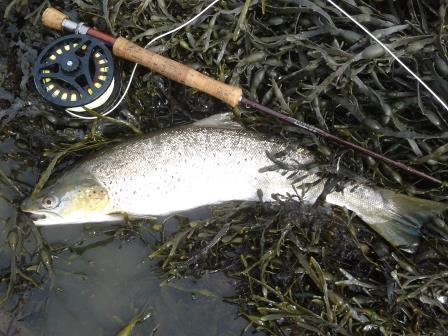 At the beginning of the month Harry Jackson landed this beauty (5lbs) at Cardross on the fly.
Last  year's catch returns suggest that estuary catches will tail off as we reach the end of September. These well fed fish will then head back up into the Loch and spawning streams….hopefully in time for the Annual Fly Fishing Competition on 29 September.
Loch Lomond
No reports from the Loch, but the change in weather conditions have brought the Loch temperature down to around the 14c level. This week's run of fish on the Leven won't linger for long before heading to the Endrick and Fruin. Not many anglers out during the week, but the heavy downpours and strong winds will have put a few off.
The Loch Lomond Annual Fly Fishing Competition will be held on Saturday 29 September. We expect that conditions will  be more favourable than last year. and it could be an interesting day with fresh grilse about and the return of estuary feeding sea trout imminent. Full details on our 13 September update.
River Endrick
Some good spates on the Endrick recently and we believe that Chris Turner has landed his first salmon (12lbs) of of the season.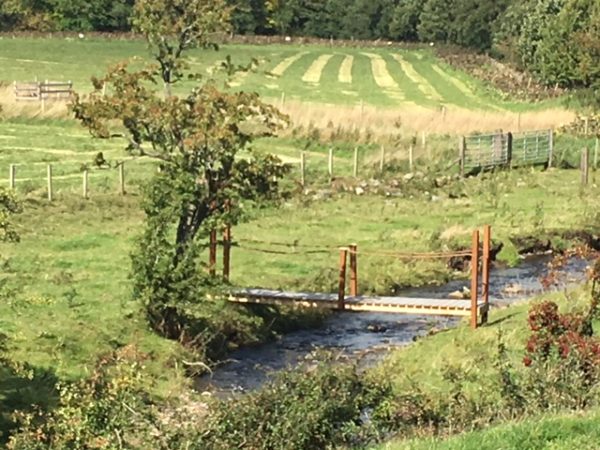 Over the past couple of years new stiles have helped improve access on the Endrick and Fruin. This year four new bridges, including this one at Coolies, have been installed on the Endrick by our hard working bailiffs.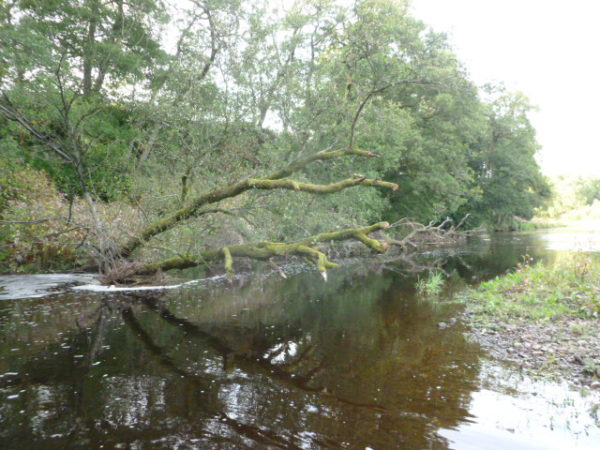 Fallen trees at Drumtian are causing some concern. Unless they are obstructing fish passage we can't legally remove them without the landowners permission. We can assure our members that this is being sought but removal will not be an easy task. Volunteers will be needed. At low water we should be able to cut up the main trunks and branches but the root balls will likely have to remain in situ. Given the unstable nature of the south bank this is likely to be a recurrent problem.
Coarse Fishing Representative
We are pleased to announce that Jason Walls has been appointed to the committee as coarse rep. Jason is a keen pike angler and has a good knowledge of angling in general, bailiffing and fish biology. He is a member of both Scottish pike angling clubs and his advice on the coarse side of the fishery will be invaluable.
Catch Returns 
Almost that time again…. Last year with a lot of effort we managed to obtain an 85% catch return. Forms have already been sent out with permits and will be sent out again during October. Please note that these should be returned as soon as possible after 31 October and before 30 November. The Association has a statutory duty to submit catch returns before 31 December annually. The LLAIA Constitution states:
5(b) Association full members who do not submit a catch return 30 days after the end of the season, i.e. 30 November, may be charged an administration fee on top of the annual membership subscription in the following season, if deemed appropriate by the committee.
We don't wish to invoke the imposition of fines on members. Instead it has been agreed that returns should be submitted before a renewal is granted.
Many members and associate members took advantage of our electronic catch returns register. However the system developed problems and was discontinued.   A new system is under construction which we hope will be online before the end of the season. We plan to make this facility accessible by full and associate members, estuary season ticket and day ticket anglers.
JR
Contact Reports at: reports@lochlomondangling.com