River Leven
The river is once again at summer low with with weekend freshets, enough to encourage fish to run and good to hear that grilse have made an appearance. Last season catches of grilse on the Leven rose by 39% compared to 2017, even with the long, dry summer. Runs had been poor for a few years but this sign of recovery is very encouraging.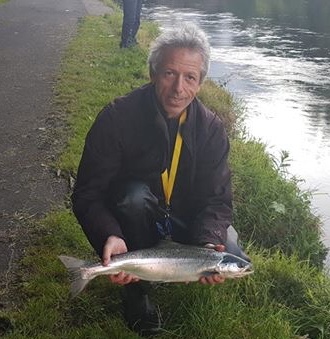 20th June: Harold Roch landed and returned this summer sparkler (5lbs) at the Chapel Hole on a flying-c
Other reported caches: 18 June; Sam Burgoyne (12lbs) Top Pool, worm, returned. 19 June; Malcolm MacCormick (8lbs) Glebe, rapala, returned. Stuart Brown (12lbs) Chapel Hole, no further info. 20 June; Euan Slowic (12lbs) Double Pipes, Flying-c.
Alterations to River Bed
We have recently had reports of alterations to the river bed being made. It is illegal to set up such 'croys' and per SNH only existing ones can be retained where well established and well maintained. Apart from creating negative flows and other issues, the sudden appearance of these underwater obstacles is highly dangerous to anglers wading who know the water well and stumble over them unexpectedly. Any angler found to be engaging in such activities will find himself fishing elsewhere.
Loch Lomond
Some heavy fish in the Loch this year with several anglers reporting screaming reels and big fish parting company after a short encounter.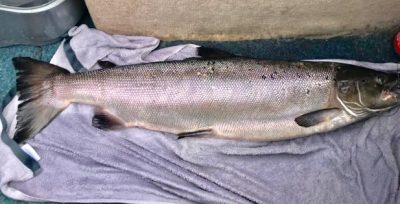 20th June: Scott McNair reports….
'Would like to share my catch today! 24lbs cock fish just south of the Girl Guides Hut, off the point at 1030 am on a copper/lurgan.'
Thanks for that Scott. Note the use of a wet cloth under the fish which helps to keep it calm and less chance of injury prior to release. Fish mats used by coarse anglers have the same effect, are not expensive and recommended for use by boat anglers.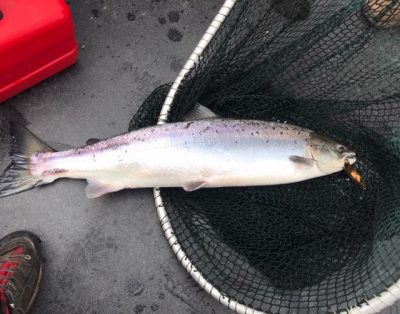 22nd June: Robert Wilson reports….
'I had a salmon off the Loch today, 10lbs at Balloch Park. Green and gold toby'
Fish returned. Thanks for your report Robert.
Other reported catches: 14 May; Stephen Gilfeather (11lbs) 19 June; John Connolly (11lbs) believed to be John's second fish this season. 22 June; John Campbell (18lbs)
Voldac confirm grilse now in the Loch but no details of catches at present.
Loch Lomond Fly Fishing Competition – 2019
This year's event is scheduled to take place on Saturday 14th of September. Once again proceeds from the day will be donated to the Loch Lomond Rescue Boat. Over the past two seasons £900 has been donated to the LLRB through our events and we hope to raise another healthy contribution.
Last years event was well attended, even with the poor weather which unfortunately meant we had to cancel the BBQ. Full details will be posted very shortly…keep that date free for another enjoyable day out.
Committee's Blog Update
See the latest news from the LLAIA Committee at http://www.lochlomondangling.com/news/2019/07/02/committee-update-02-07-2019/
Catch Reports
Once again we hear of fish being landed around the system but can only report on confirmed catches. We realise that some anglers, for whatever reason, prefer not to share details their red letter day, but your good news give other anglers hope and lets us all know how the system is fishing.
JR
email Reports at: reports@lochlomondangling.com