Summary
The heavy rain downpours and resulting spate conditions early in the week provided a significant rise in river levels for the River Endrick and the Fruin. This resulted in very favourable conditions for both of these waters in particular when heights dropped and water cleared. Elsewhere the River Leven which has held up an average of 2m height and the Loch were both relatively quiet based upon reported catches with the exception of a few great double figure fish.
Loch Lomond Fly Fishing Competition
A reminder that the 2020 Loch Lomond Fly Fishing competition will take place on Saturday 19th September. This has proven to be a popular and great day for anglers and an event not to be missed. The Glasgow and Edinburgh Angling Centres have generously agreed to be our main sponsor this year with sponsorship also appreciated from Snowbee UK and Luss Estates Company. For full details of this year's event including registration details and information of the many great prizes on offer please follow this link https://www.lochlomondangling.com/news/2020/08/24/loch-lomond-fly-fishing-competition-2020/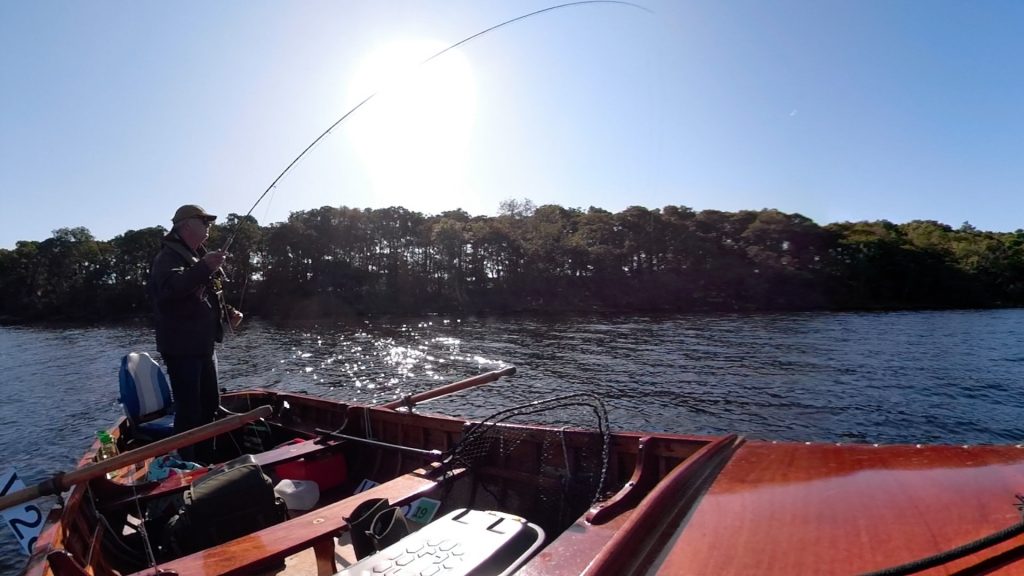 River Leven
On Wednesday 26th August experienced Leven angler Derek Hughes landed this beautiful fresh salmon of 14lb on the fly at "The Piles". The fly that did the damage was a size 10 double gold bodied Wille Gunn Monkey, one of Derek's own creations. Well done and congratulations Derek a lovely fish and well deserved.
River Leven Water Conditions
Additionally the current water gauge level for the River Leven at Linbrane can be obtained from SEPA by following this link https://www2.sepa.org.uk/WaterLevels/default.aspx?sd=t&lc=133107
Local information concerning tide tables can be found here http://www.ukho.gov.uk/EasyTide/easytide/ShowPrediction.aspx?PortID=0404&PredictionLength=7
Loch Lomond
As stated it has been a quiet week on the loch based upon 'reported catches'. Scott Sinclair (LLAIA Treasurer) landed a cracking 15lb fish just opposite 'Hen Isle'  which was safely returned after a quick selfie. Congratulations and well done Scott!
River Endrick
Endrick regular John McNab got things moving on the Endrick this week with a nice Grilse of 5.5lb at the Barnsford area, well done and congratulations. (no image available).
Wednesday 26th of August saw John Coppola land a fine fresh wee Grilse of 3lb at Drumtain which was safely returned, well done John.
Now here is a name that I believe we are going to hear much more of in the future. Young Jamie Carruth who is enjoying his first season on the river successfully landed a lovely Grilse of 6lb at Cowdenmill on Wednesday 26th. (no image available). Well done and congratulations Jamie.
Also on Wednesday experienced Lomond angler Lee Taylor landed a beautiful wee Grilse of 3lb at the "Black Lyn" on a small Orange Flamethrower. Congratulations and well done Lee!
With water conditions in that ideal range Wednesday 26th also saw seasoned Endrick angler Colin Ferguson land a fine Sea Trout of 3lb at Ballochruin. Well done Colin and congratulations.
Jamie Carruth continued his tally sheet on Thursday 27th August with a wee Sea Trout of 1.5lb on a Monkey Fly, well done Jamie.
Thursday 28th saw Jamie back on the water adding the following catches to his success. Jamie landed this lovely Grilse of 5lb again on The Monkey Fly.
Jamie continued his success on Thursday adding three beautiful Sea Trout of 2.5lb, 3lb and 4.5lb to his tally for the day, with fish falling for a combination of The Monkey Fly, Cascade and Teal Blue and Silver. Not a bad days fishing,  awesome Jame congratulations and well done!
Also on Thursday 28th August Endrick angler John Coppola successfully landed a lovely Grilse of 4lb at Drumtain which was safely returned. Congratulations once more John.
Thursday 28th continued to provide success with Massimo Callesso successfully landing a fabulous and a personal best Endrick Sea Trout of 5.5lb which he anded at Drumtain. Congratulations and well done yo9ur smile says it all!
River Endrick Water Conditions
Current water conditions at the SEPA gauges (Gaidrew) on the Endrick can be found using the following link https://www2.sepa.org.uk/waterlevels/default.aspx?sd=t&lc=133086
River Fruin
No "confirmed" reports of catches this week from the River Fruin
The Estuary
Reports concerning the Estuary continue to be elusive, as we know this part of our system normally provides excellent action and good returns of Sea Trout and other species so we would urge all anglers and members to share their stories and successes with our readers, members and visitors please?
Footnote
As can be see from the reports above the deluge and spate earlier in the week provided ideal levels and sport on the Endrick for those angler who timed their trip correctly. This together with a couple of excellent double figure fish from the Loch and the River Leven has illustrated the excellent quality and range of our fishings.
Many of you will have seen the reports concerning the escape of farmed salmon from MOWI's 'facility' at Carradale North. We would encourage all anglers to familiarise themselves with the instruction concerning what to do if they suspect that they have caught a farmed fish. This information can be found at the following link https://www.lochlomondangling.com/news/2020/08/28/lomond-news-byte-important-carradale-north-salmon-escapees/ 
This week there has been one suspected farmed fish caught on the River Leven, this has yet to be confirmed following results of the required scale testing and we would urge all anglers to be vigilant in this respect please?
We actively encourage all anglers to  share your fishing tales, stories and photographs (coarse or game fishing) with us. In doing so we can recognise and share your successes with all of our members and visitors. Please therefore remember to send details of your tales, photographs, stories to us by email to reports@lochlomondangling.com
We wish everyone the best of luck in their fishing exploits and respectfully remind all anglers to observe best practice at all times in carefully netting, unhooking and releasing your prize fish and ask all anglers to always stay safe whilst on the banks or on the water. The image below helps to illustrate 'best practice' in handling and release of all fish.