In this issue
Fish rescue River Leven 31st May 2021

River Leven – How not to treat our environment

New Exclusion Zone – Loch Lomond

Scottish Government Publication of salmon and sea trout fishery statistics for the 2020 season
Fish rescue River Leven 31st May 2021
At approx. 10.45 this on Monday 31st May our Bailiff received a call from an angler indicating with the gates closing from weekend height ( Approx 0.55M) down to Summer Low  level (Approx 0.42M) that morning then Salmon and/or Trout Fry were stuck in very shallow pools of water on gravel banks near the Stuckie Bridge. As we all know this has happened before unfortunately and was the main reason that we negotiated a new water flow regime for the Leven in the spring months with Scottish Water. The change in level over time that contributed to this particular situation can be seen on the SEPA gauge below. We would like to sincerely thank anglers David Watt and William for their swift responsible actions in firstly reporting this incident and secondly for contributing and supporting the subsequent fish rescue activities.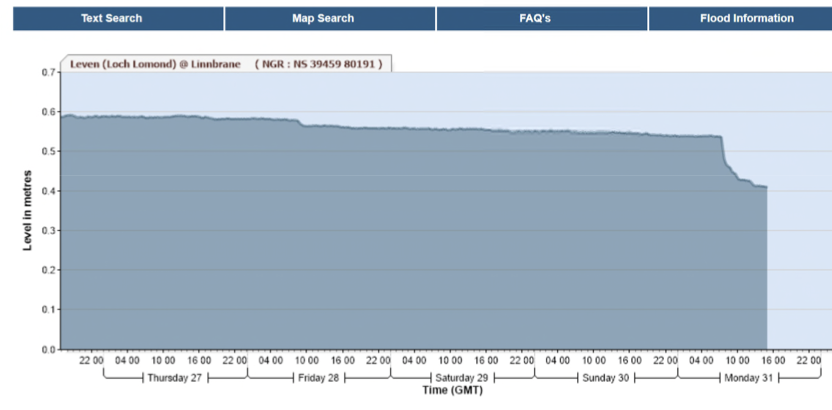 Both bailiffs went out and along with our R Leven ticket holder David Watt and another angler William when they successfully managed to rescue at least couple of thousand fry and given their size they likely will be from the spawning that took place this winter, they also rescued a 10 inch eel. Minnow nets, plastic buckets were in use together with cutting a small trench in areas to allow fish to swim back into the main stem.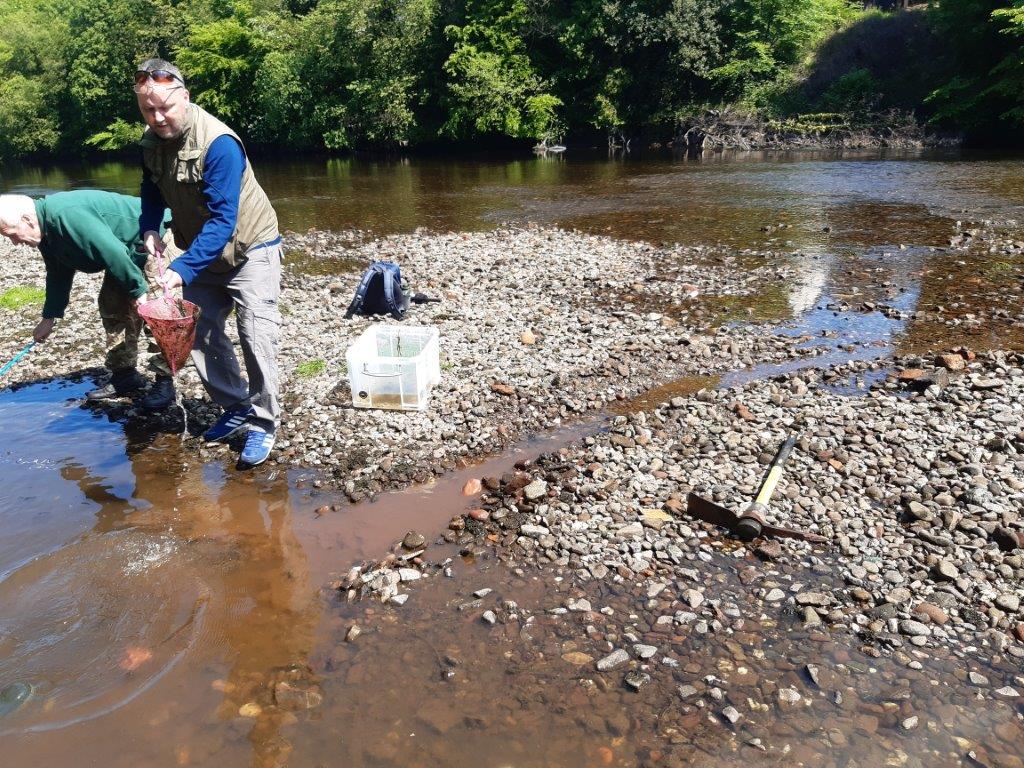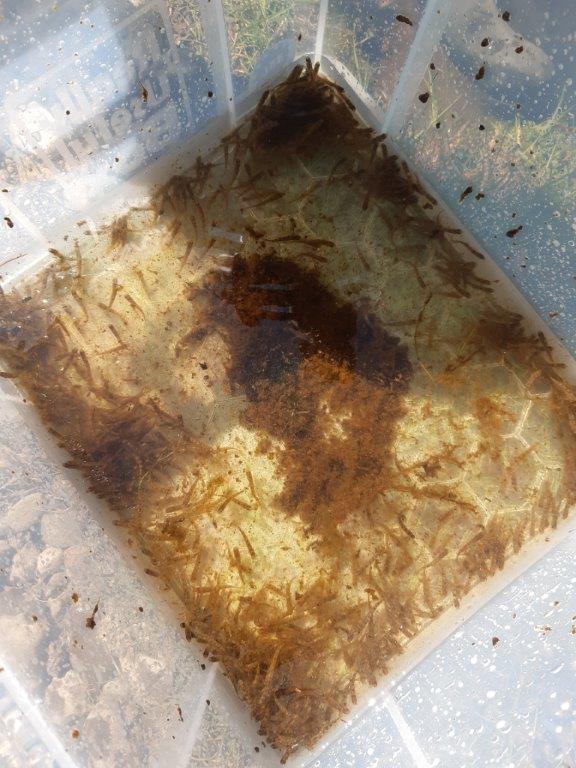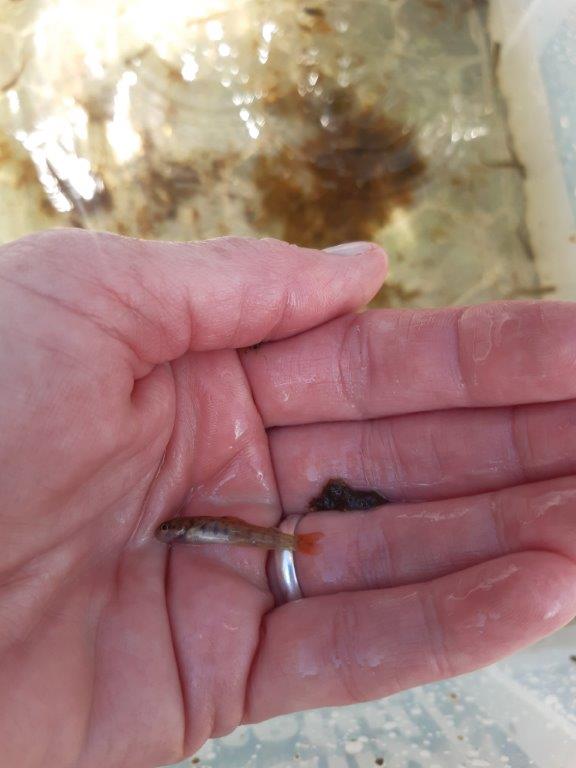 In terms of follow-up then further communication and discussions with Scottish Water will ensue as a matter of priority with a view to hopefully further improve and build upon the new Spring flow criteria that the LLAIA successfully negotiated six years ago.
Once more we would commend and than anglers David Watt and William for their responsible action in notifying the Bailiffs and for their time and assistance in addressing this situation.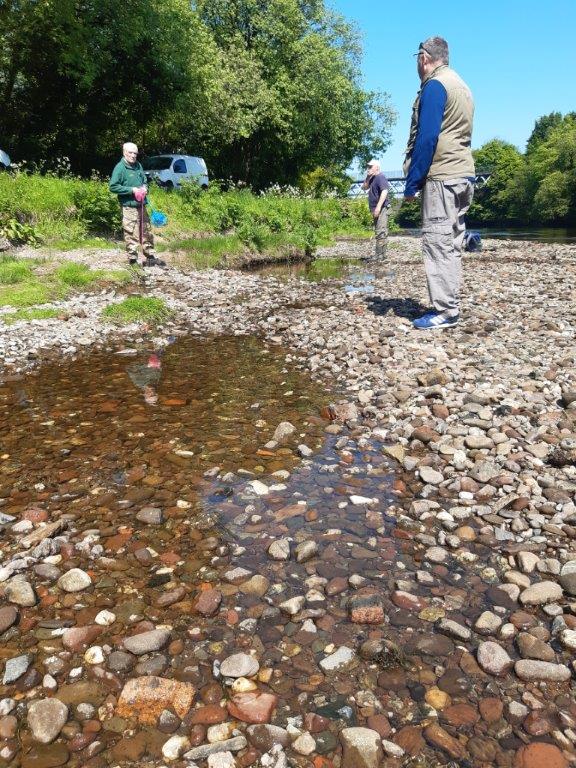 River Leven – How not to treat our environment
Below is an illustration as to how Bonhill Car Park which is used by anglers was left on Thursday 27th May. This is an example of total disrespect for our system and environment and for those responsible anglers that do care for their environment it sends entirely the wrong message that anglers care. This example of wilful littering and total disregard is particularly upsetting given that there are waste bins located only yards away, those irresponsible individuals will know who they are.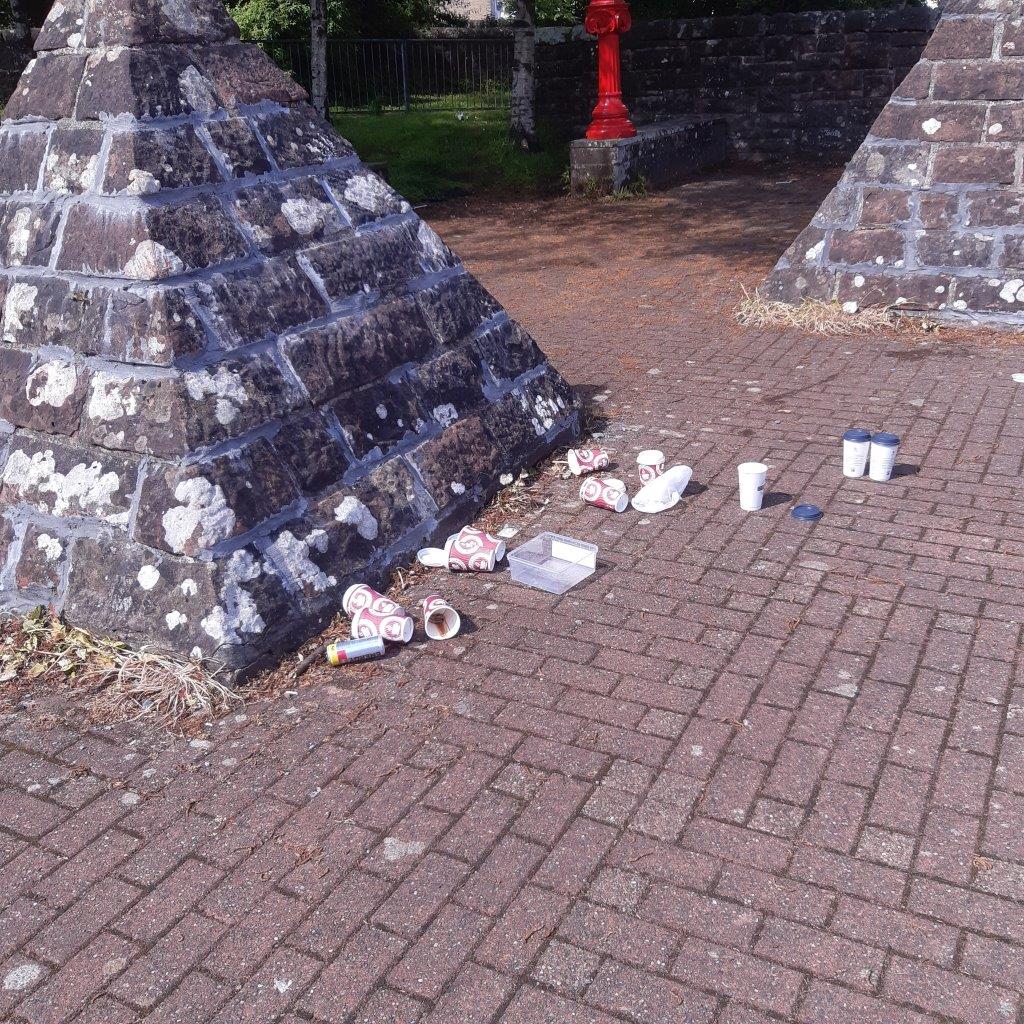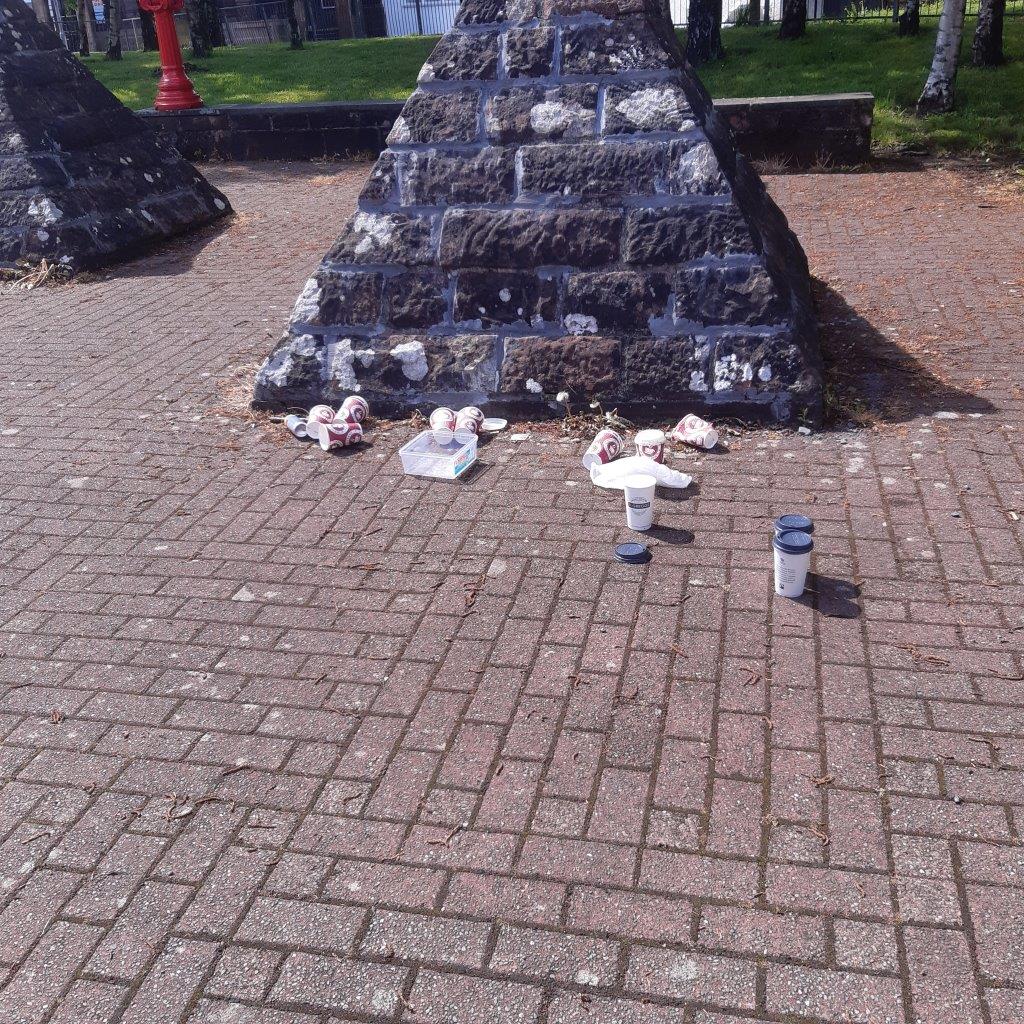 The image below relates to a pollution incident at Renton footbridge which was recently reported and referred to SEPA also on Thursday 27th May for their investigation and action.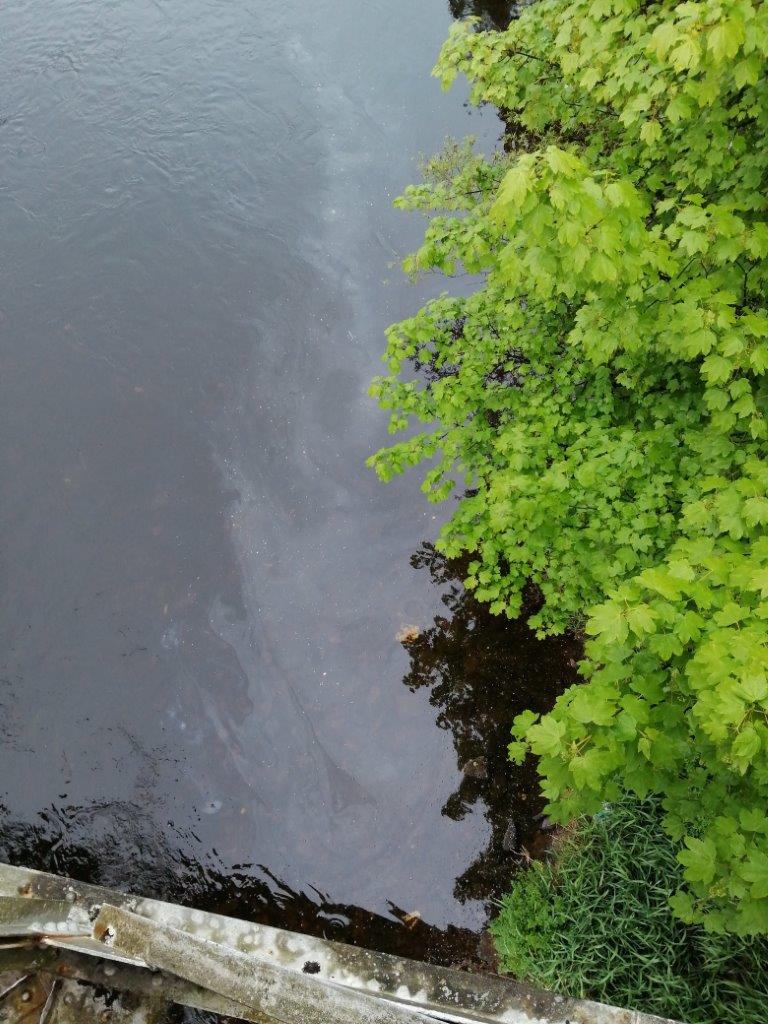 New Exclusion Zone – Loch Lomond
We have been informed that the LLTNPA will be putting in an exclusion zone around the west tip of Torrinch island, that this is to protect raptors protected under Schedules 1, A1 and 1A of the Wildlife and Countryside Act 1981 (as amended) and we require all of
our members and anglers to avoid entering or going ashore within the exclusion zone. We have been advised that this exclusion zone will be clearly marked with buoys to highlight the area of exclusion.
Scottish Government Publication of salmon and sea trout fishery statistics for the 2020 season
Published:
26 May 2021 09:30
Scotland's Chief Statistician today published the salmon and sea trout fishery statistics for the 2020 season.
Salmon
Reported rod catch of salmon (45,366) is the third lowest since records began, and 92% of the previous 5-year average. Catches have decreased from a high in 2010 and the 2020 records are consistent with a general pattern of decline in numbers of wild salmon returning to Scotland, although the impact of the coronavirus pandemic complicates comparisons with previous years. Rod effort information shows a decrease in effort during the spring and early summer of 2020, when stay at home orders and travel restrictions were in place, compared to 2019.
Of spring salmon captured by rod, 99% were released, as were 93% of the total rod catch. These are among the highest proportions of catch and release reported since records began.
Trends in rod catch vary among individual stock components.  Reported rod catch of spring salmon has generally declined since records began and, although it seems to have stabilised in recent years, it remains at a low level.  Reported rod catch in later months, generally increased up to 2010.  It fell sharply over the next four years, and has subsequently remained at a low level.
Reported catches for the net and coble fisheries were the second lowest since records began whilst in 2020 no fish were retained from fixed engine fisheries for the first time.  Reported effort for both fisheries were amongst the lowest in the respective time series.
Fish reported as being of farmed origin represented 1.3% of the total catch.  This is an increase from 0.04% in 2019.  The Clyde Coast region accounted for 98% of reports, where almost 49,000 fish were reported to have escaped from a marine salmon farm in August 2020.
Sea Trout
Total reported rod catch of sea trout (13,313) is the lowest since records began, and 74% of the previous 5-year average, although the impact of the coronavirus pandemic complicates comparisons with previous years. Sea trout catches have fluctuated around a general trend of decline since the 1960s.
Of reported rod catch, 88% were released, the second highest proportion since records began.
Reported catch and effort for both the fixed engine and net and coble fisheries were amongst the lowest recorded by either fishery since records began.
source: https://www.gov.scot/news/publication-of-salmon-and-sea-trout-fishery-statistics-for-the-2020-season/?fbclid=IwAR0Wr4lv-rAryfqdkZy6DzQjCkyihA24wSaVBR4gOYzdCm2hHbEEJcQqljw