Following an abnormally delayed start to our season catch reports are now increasing steadily following the first reported salmon being landed on 10th May and some notable catches during the last month now being being reported. In line with the majority of west coast systems we have experienced an unusual delay in terms of reported catches this season. There appears to be several factors that appear to have contributed to this delay including the unseasonal sustained cold temperatures in April which saw below zero temperatures reported for very day in April. Combine this with the driest April for over forty years and we have experienced some hopefully very rare weather conditions for many many years. Another factor that was observed was a notable decrease in rod pressure where the lack of fish being landed resulted in rod pressure in March and April being comparatively low with few anglers venturing out despite frequent sightings of fish running through the system during this period.
The good news is that following the first fish (Salmon) coming off the system on the 10th May on the River Leven then reports have continued to grow steadily in both number and quality with some very noteworthy catches already being reported.
Following reports of fish lost at the net earlier in the month the first confirmed fish from Loch Lomond was on 26th May. The Estuary has provided really good sport during recent months with some excellent catches of some particularly larger sea trout being reported along the usual areas.
So after an unusual pause our season has finally taken off and we would like to wish all anglers tight lines and enjoyable fishing days across our beautiful system.
In particular we would like to extend a warm welcome to the significant number of new members and we wish you each all of the best in your first season.
River Leven
The first confirmed fish off the system came on the 10th May, caught by none other that Chic McLean who landed a pristine fish of 10lb at Ritchie's Lade on a flying C which was duly safely released, congratulations and well done Chic for getting things off the mark.
The above first reported fish was quickly followed by a fine silver 14lb fish landed by William Miller on the 11th May , congratulations and well done William.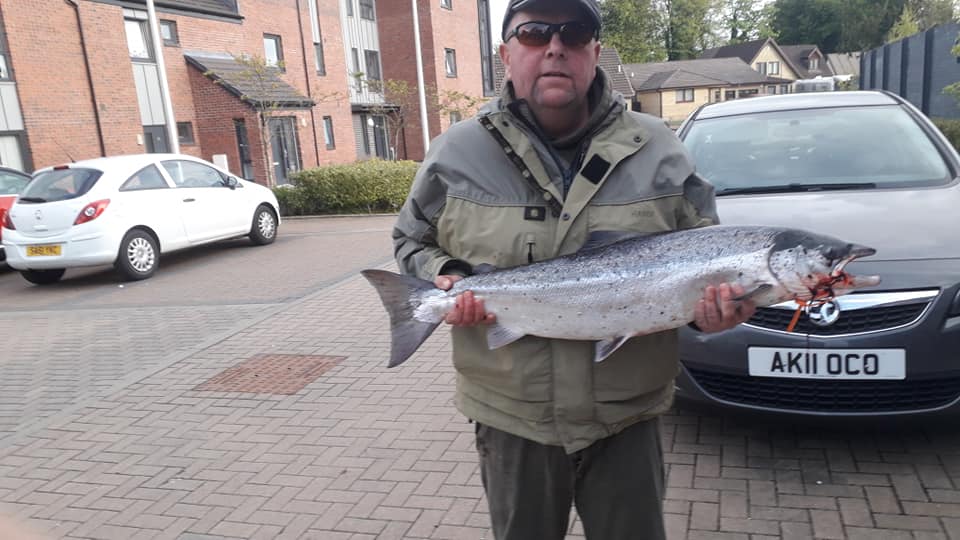 On the 12th May it was reported that Davy Watt had successfully landed another good fish of 12lb off the river, no further details available. Well done Davy and congratulations.
Two fish were landed on 18th May, a cracking fish of 18lb by yours truly once more Chic McLean which was landed at Ritchie's Lade on a rapala before being released. Well done Chic once more.
The second fish on the 18th May was landed by Jack Miller, a cracking fish of 12.5lb which was caught at the Double Pipes. Well done and Congratulations Jack.
On Friday 21st May Graham Dunt Stuart got his tally started with a beautiful 14lb fish caught on on the worm, well done Graham and if last season is anything to go by then this will likely be the first of many.
The following day, Saturday 22nd May, Leven angler Gavin Lees successfully landed an absolute cracker of a fish on a flying C which was estimated at 28-30lb! A terrific specimen and example of what quality fish the Leven can produce,  well done Gavin and congratulations.
Also on 22nd May Jim McDonald landed a nice fish of 13lb (no image)
On Monday 24th May angler Craig McKerry reported landing a lovely 10lb fish at The Piles on the worm, congratulations Craig. (No image).
During 26th May there were unconfirmed reports of two fish being landed on the river. The first being a fish of 18lb was reported as being landed by R Melvin on the lower river (no image) and another fish of 12lb was unofficially reported as being caught also on the lower river by angler unknown. (no image)
Leven regular Neil McCreadie landed a lovely fish of 10.6lb on Thursday 27th May on the worm, congratulations Neil.
On 31st May Chic McLean ended the month on a high with another respectable fish of 12lb which he successfully landed at Ritchie's Lade once more on a rapala despite low water conditions. Well done Chic and congratulations on your successful start to the season.
River Leven Water Conditions
The River Leven must surely be central Scotland's premier Salmon and Sea Trout fishery. All methods except prawn or shrimp and float fishing are allowed on the river.
Fly fishing is probably the most popular, due to the fact that the fish are traditionally free risers to the fly. From the 11th of February 'till the 31st of October the Leven provides Salmon and Sea Trout, though it is usually the last week in March that provides the first decent run of spring Salmon. The Leven gets a good run of larger early Sea Trout throughout April and particularly in May.
To be in the right place at the right time when fish take a rest as they pass through, is the key to success! The same applies to Salmon, the Leven is a fairly short river at six miles long. Part of the reason for its success, is that every fish has to go through the Leven in order to get to the Loch and the spawning rivers.
Throughout the Summer and Autumn the whole river provides excellent fishing. Night fishing for Sea Trout is popular from late June, with good catches recorded by anglers every year.
The lower reaches of the Leven are tidal and many anglers like to be on this stretch of the river from one hour after high tide during darkness, to cover fresh fish moving in and out with the tide.
The one thing that is unique to the Lomond system, is that the Leven and Loch Lomond continue to fish well during a drought year when most other fisheries are suffering. After prolonged dry weather, most rivers have weeded up so badly that it is difficult to prevent your fly from collecting weed. The river Leven does not have this problem. Even in a drought year, your fly will swing round unhindered other than by the attentions of the Salmon and Sea Trout!
Additionally the current water gauge level for the River Leven at Linbrane can be obtained from SEPA by following this link https://www2.sepa.org.uk/WaterLevels/default.aspx?sd=t&lc=133107
Local information concerning tide tables can be found here http://www.ukho.gov.uk/EasyTide/easytide/ShowPrediction.aspx?PortID=0404&PredictionLength=7
River Leven barrage design and operation explained
River Leven  Barrage Operation.
In 2016 the LLAIA committee met with Scottish Water and Scottish Natural Heritage to agree a new water level management plan. Where any confusion or doubt among our anglers should exist as to what the river Leven level should be and when then the River Leven Barrage Control rules below should make matters clear.
1 – ALL YEAR
IF Loch below 23ft 
Uncontrolled flow.
2 – ALL YEAR
IF Loch between 23ft and 24ft 
Plate 4 with Plate 2 freshets.
3 – 1st April to 1st June
IF loch between 24ft and  26ft 
Plate 2 with no weekend freshet
4 – 1st Jun to 16th August (as requested by LLAIA)
IF loch between 24ft and 26ft
Plate 4 with Plate 2 weekend freshets.
5 – Between 16th August and 1st of 1st April
IF loch above 25ft
Uncontrolled Flow
IF loch between 24ft and 25ft
Plate 2, no weekend freshet.
6 – Between 1st April and 16th August
IF loch above 26ft
Uncontrolled flow
Hopefully the above information concerning the agreed operating limits for the barrage is helpful in understanding the water levels that can be expected throughout the season based of course upon the prevailing Loch Lomond water level at that time.
Loch Lomond
Salmon catches on the Loch have broadly followed a similar pattern to the unusually delayed start on the River Leven. There have however been numerous reports of sea trout catches during April and May including some lovely Sea Trout in April for experienced Lomond angler John East and Hamish McCaig of 2.5lb on 6th May off Inchlonaig and another of 3lb by Jim Raeburn on 14th May.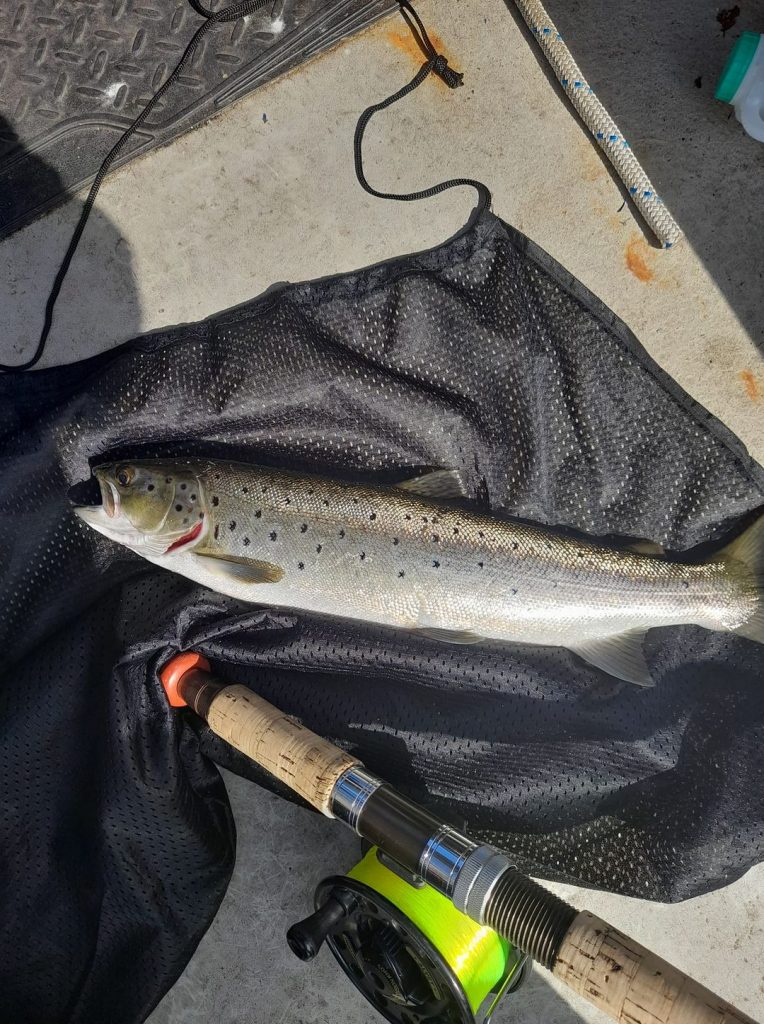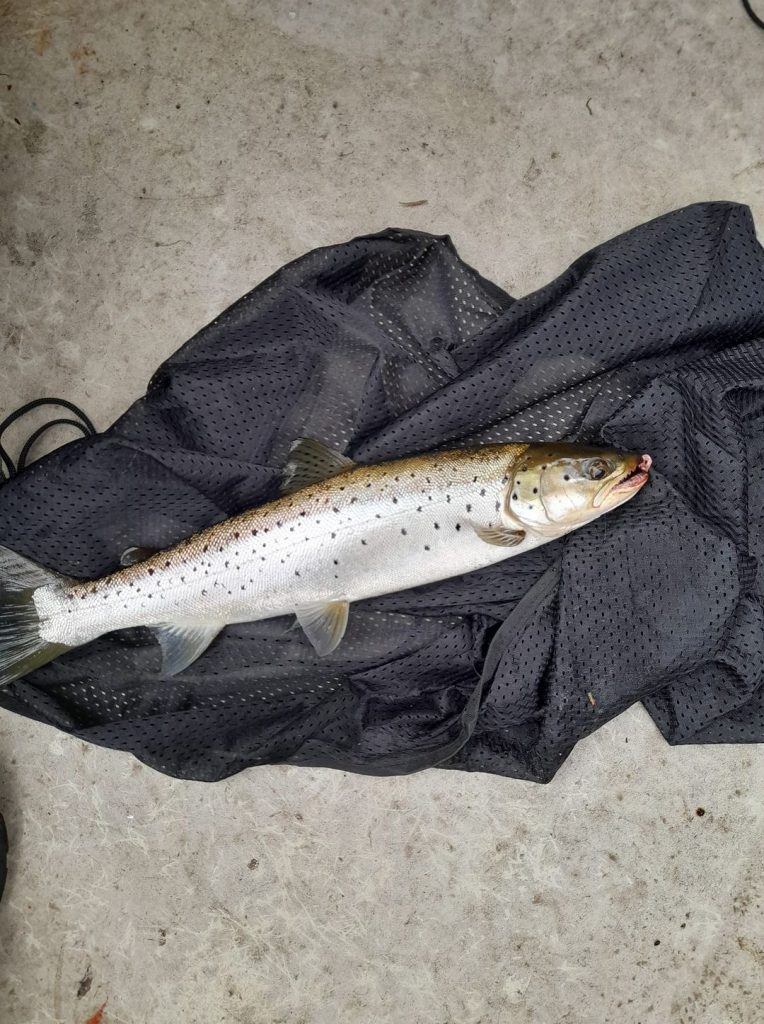 Despite the numerous catches of sea trout during April and May and some reports of fish lost at the net the first reported salmon that was successfully landed was not reported until 26th May when Balmaha boat belonging to Lenny Grant landed the first reported Lomond salmon of 9lb from the Endrick Bank on a rapala. Congratulations and well done Lenny on getting the Loch started.
On Tuesday 18th May experienced Loch angler Danny Docherty endured the Spring downpours and looked to be into a good sized fish, alas whilst it proved to indeed be a good fish it was just the wrong species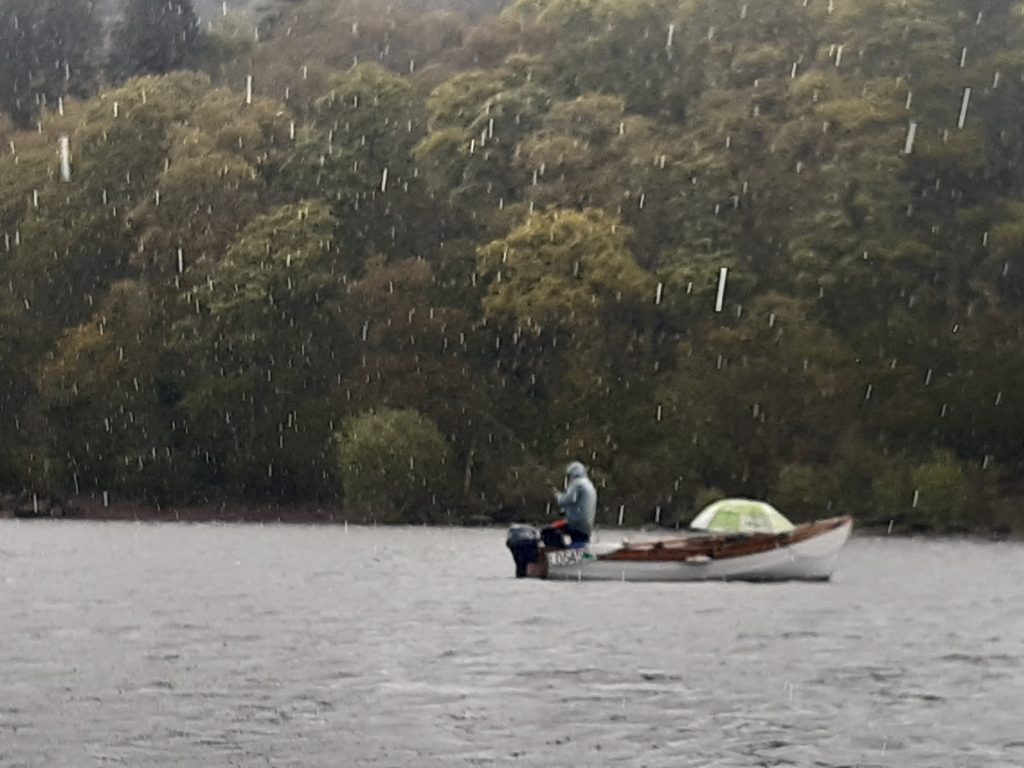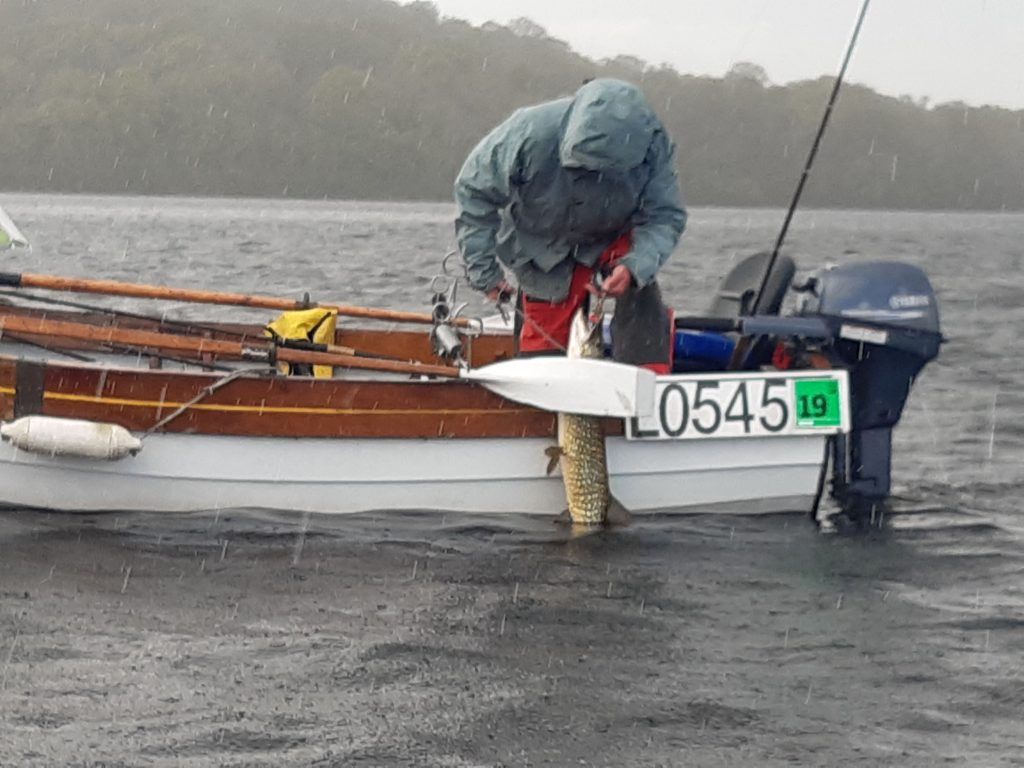 On Friday 28th May seasoned Loch angler Johnny Connelly successfully landed two salmon in Cemetary Bay (no image), congratulations and well done Johnny.
Also on Friday 28th May young Cameron King played and landed his first Lomond fish, a lovely Sea Trout of around 2lbs, I think that the smile says it all. Congratulations and well done Cameron for showing the 'older' anglers how its done.
Saturday 29th May saw Loch angler Jamie Hyslop land a nice fish of 12lb at Darroch, well done and congratulations Jamie (no image)
River Endrick
The Endrick has yet to come 'on line' in terms of Sea Trout and Salmon which it will no doubt do following a much needed wet spell and rise. In the meantime earlier this season on 31st March experienced angler John Bell successfully enticed this beautiful brown trout of approximately 3lb on the newly acquired "Hunter's Stretch". Congratulations and well done John.
River Fruin
No reported catches as yet.
The Estuary
The Estuary has reportedly been fishing very well not only in numbers of Sea Trout being caught but also with some notably larger fish in the 6-8lb range around. Angler James Miller caught this lovely Sea Trout in the Estuary on 12th April, congratulations and well done James. The numbers of fish around is unfortunately is not reflected in the number of reports from anglers so please do share you successes with us for the benefit of all members and readers.
Footnote
The season now seems to be finally underway with increasing rod pressure and fish moving through then the numbers of reports of catches is steadily rising. The current challenge to fish and anglers now currently seems to be the unseasonably dry weather where unlike other parts of Scotland we seemed to have missed recent significant rainfall. Hopefully this will not persist long since a rise in fresh water is truly needed and would improve fishing for all.
We wish everyone the best of luck in their fishing exploits and respectfully remind all anglers to observe best practice at all times in carefully netting, unhooking and releasing your prize fish and always to stay safe whilst on the banks or on the water. The image below helps to illustrate 'best practice' in handling and release of all fish.
We wish everyone tight lines for the weeks and season ahead and ask that you do share your experiences, catches and encounters with us at reports@lochlomondangling.com