With the final days of the 2022 Season upon us many anglers have been out to fish a final line on the Loch, Leven, Endrick and Fruin.
September and October have brought a very welcome end to the hot and dry conditions with some very welcome decent rainfall across the system. This welcome change in conditions have brought the Endrick and Fruin into play which has seen an increase in anglers on the banks resulting in some good quality fish being landed in recent weeks. However after a prolonged period of drought conditions we have recently seen more than a fair share of the opposite with several days of "too much' water and spate conditions making fishing impossible.
Following several unofficial reports , at the end of September we received the first confirmed report of a farmed fish being caught and landed. This fish was retained as per the recommendations and scale samples and the carcase have been passed to the relevant organisations for analysis. The relevant Government organisations have been informed of the capture of this escapee. We would remind all anglers of the need to take the appropriate action that has been provided should they catch further farmed salmon.
River Leven
Experienced Leven angler Graham Dunt Stewart landed a lovely 6lb Grilse on a size 10 Cascade at The Piles on 9th September (no image)
The 29th September saw Robert Clifford once more adding to his tally with a nice Grilse of 7lb caught on the worm at The Top Pool. First cast, well done Robert your smile says it all.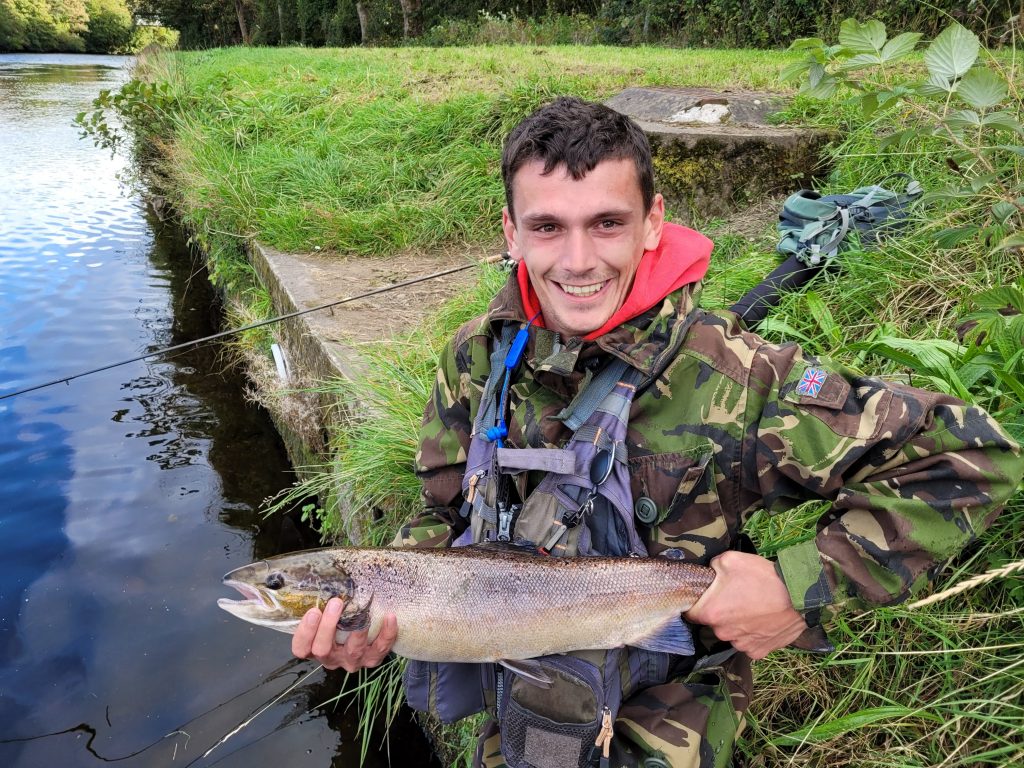 On 29th September Leven angler Phillip Bellis landed two fish whilst fishing a Flying C at The Top Pool, a lively Salmon of 9lb in full Autumn colours and a Grilse of 7lb. Congratulations and well done Phillip.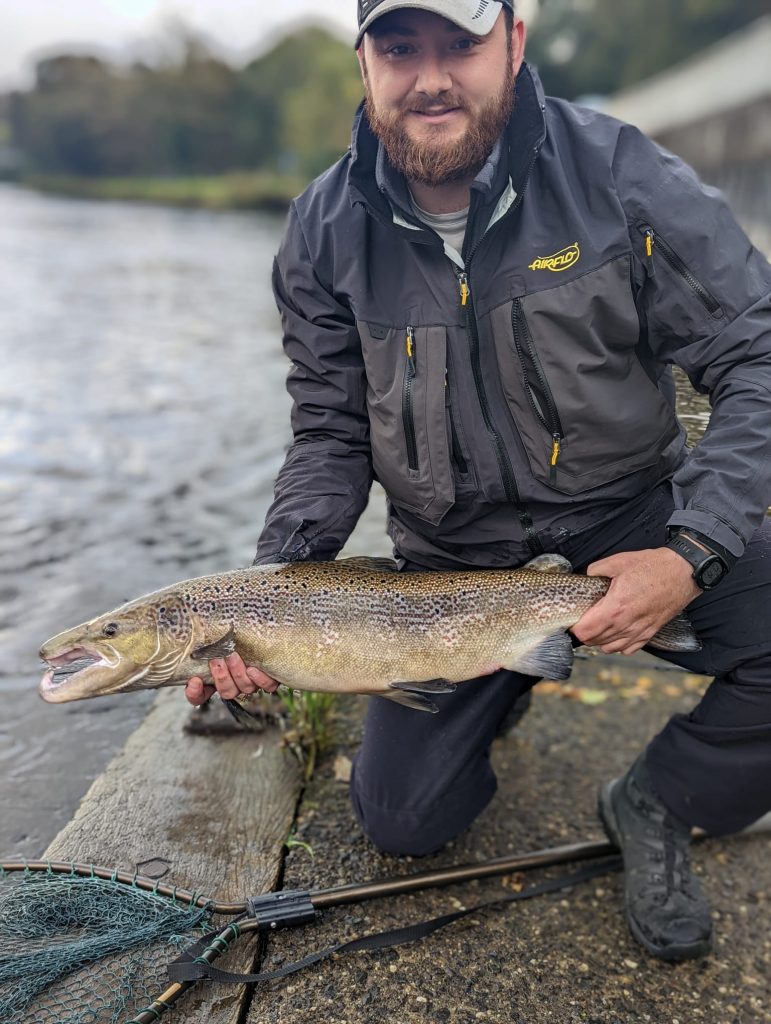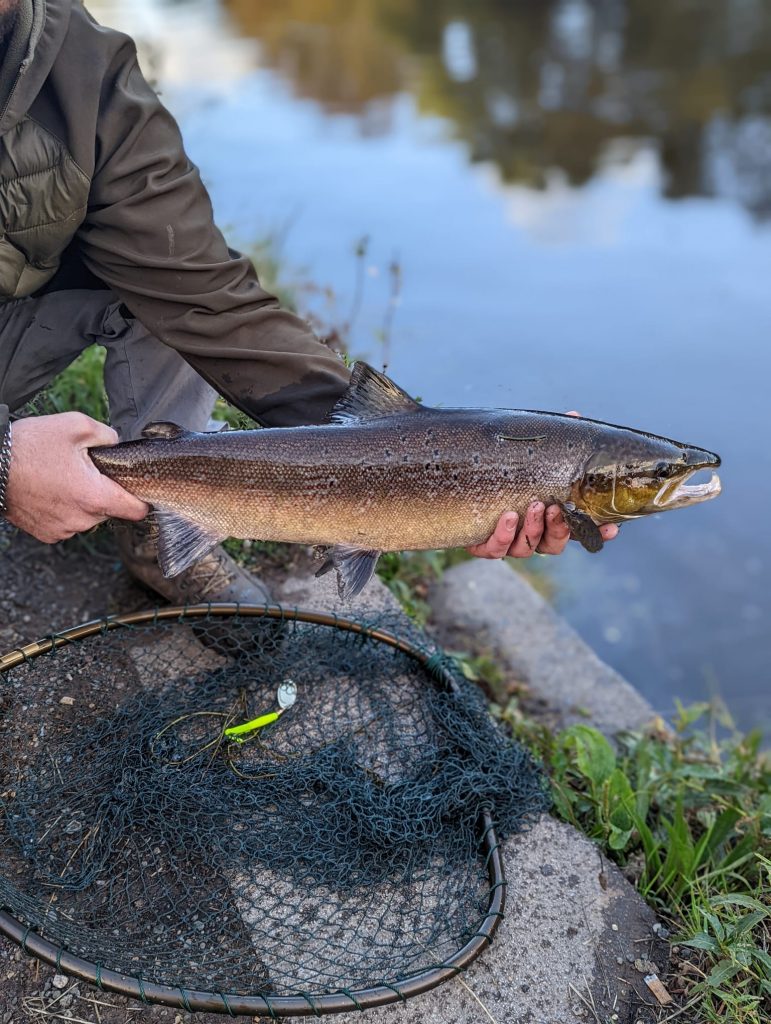 Also on the 29th September and also at the Top Pool angler Karol Roginski landed two Pike of 10 and 6lb plus a decent sized Perch of around 2lb, congratulations and well done Karol.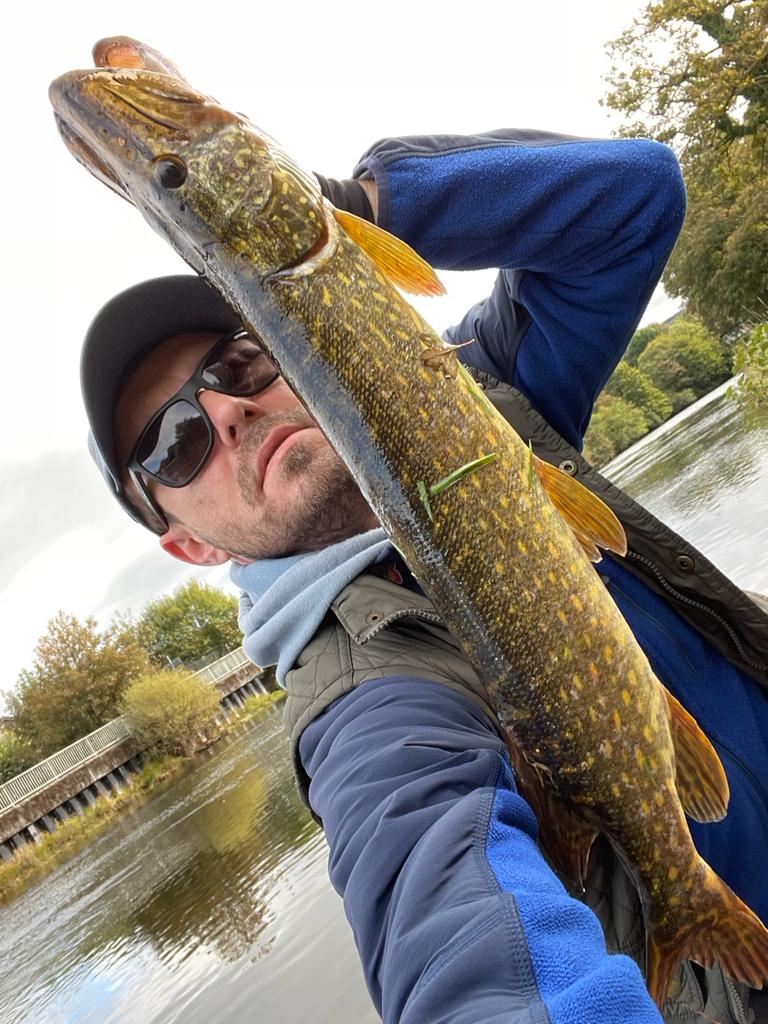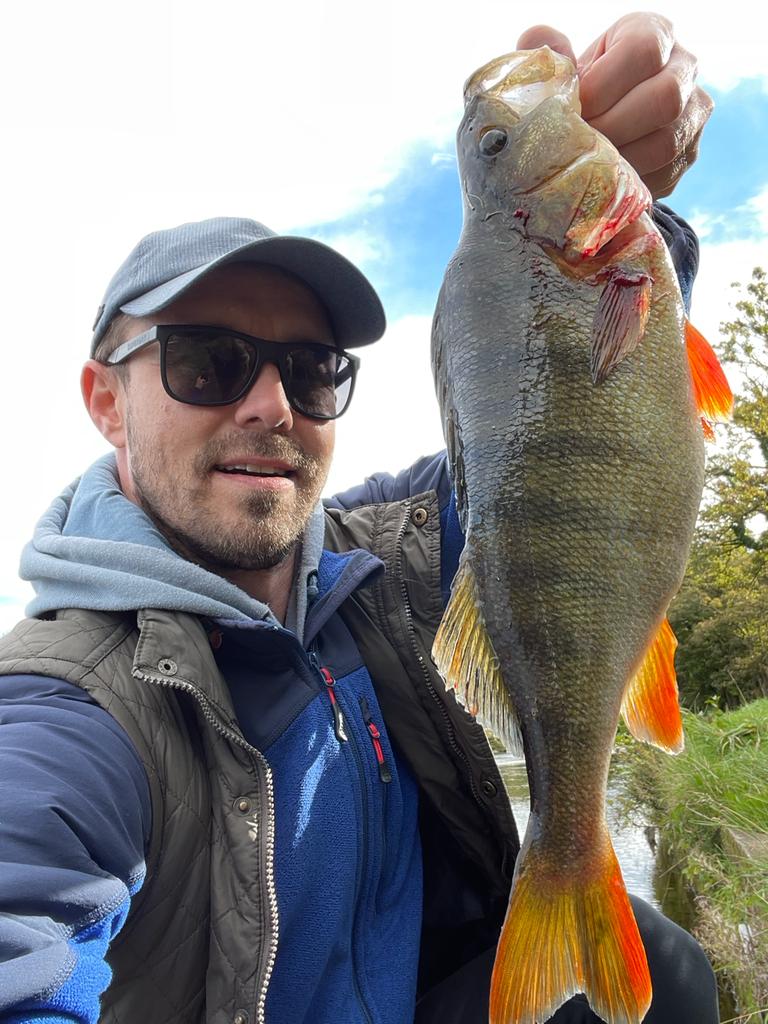 Once more on the 29th Aaron McBride one of our Bailiff Team had a couple of casts after work and found himself having a tussle with this Pike of approximately 9-10lb from the Top Pool. Well done Aaron and no doubt yet again you no probably thought you were into a decent Salmon initially.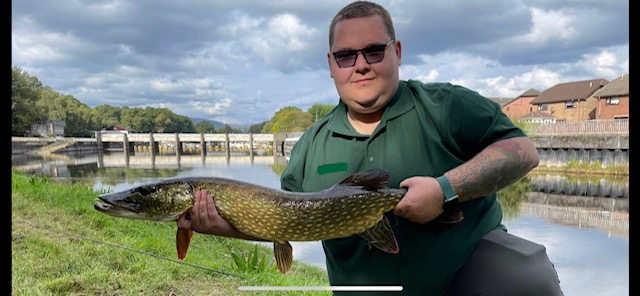 On 5th October B.Quinn landed a Salmon of 9lb on the fly, congratulations and well done. (no image)
On 15th October Robert Wilson (VOLDAC Secy) successfully hooked and landed this beautiful 18lb Salmon whilst fishing a Vision 110 at The Piles. Great looking fish in full spawning colours, congratulations and well done Robert.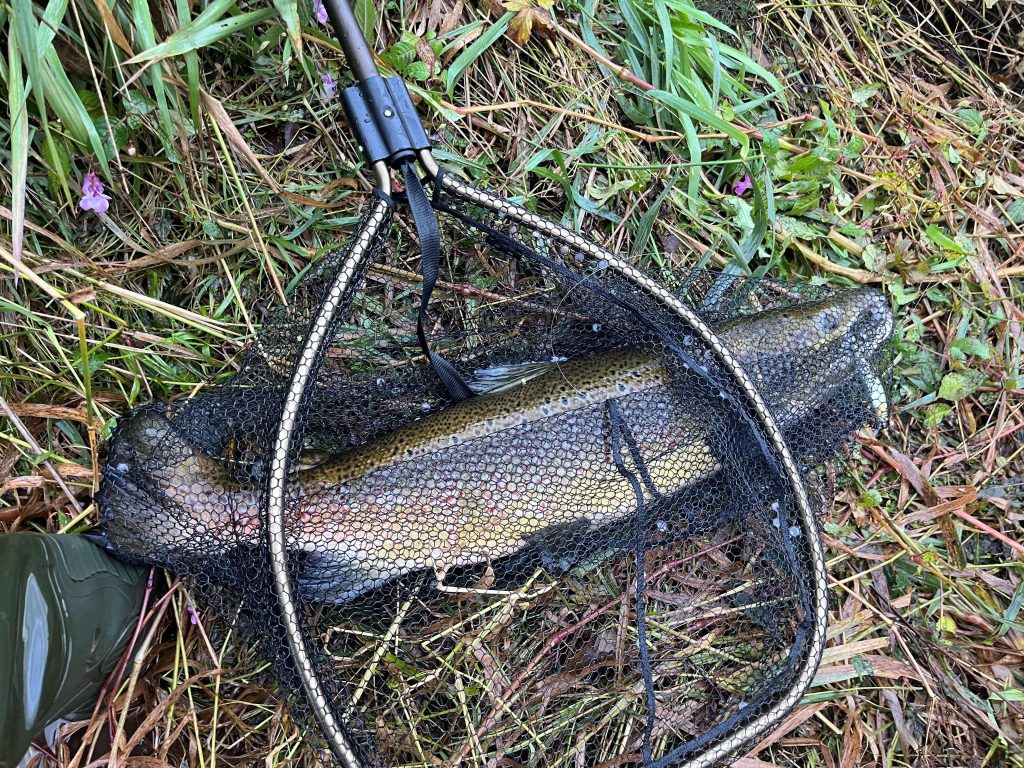 The 24th October saw Leven angler Davy Watt land a lovely bright fish of 10lb just below The Stuckie Bridge, congratulations and well done Davy.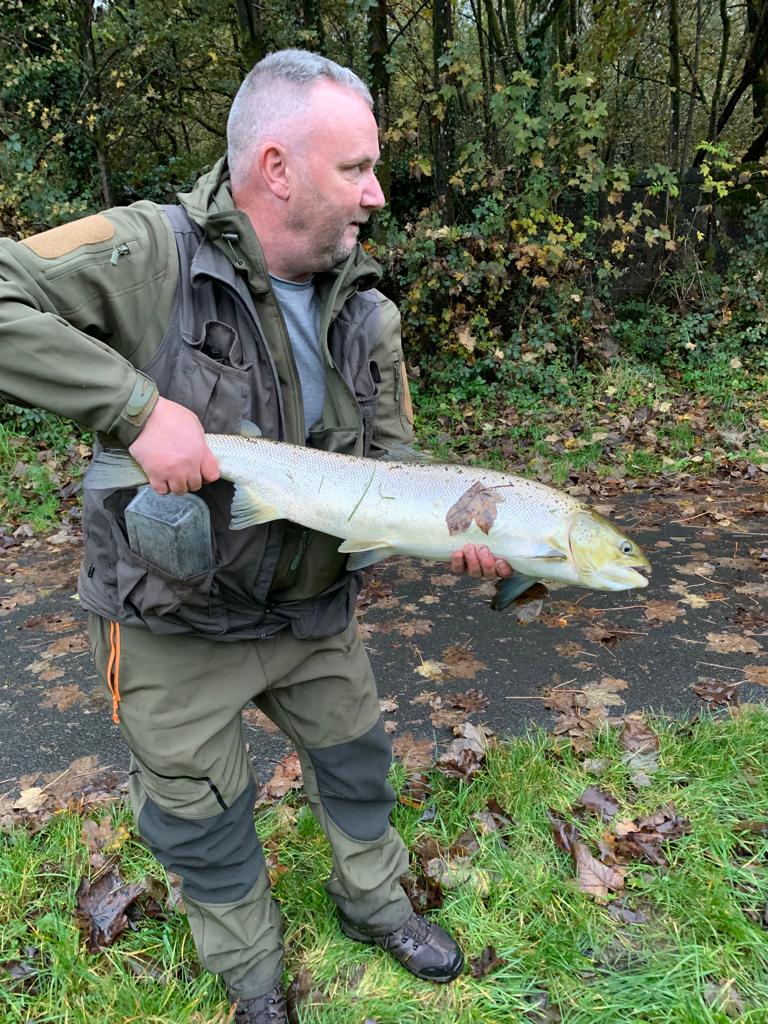 On 26th October Robert Wilson was enjoying further success in hooking and landing another fish, this time of 12lb. Congratulations and well done Robert ending your Season on a high.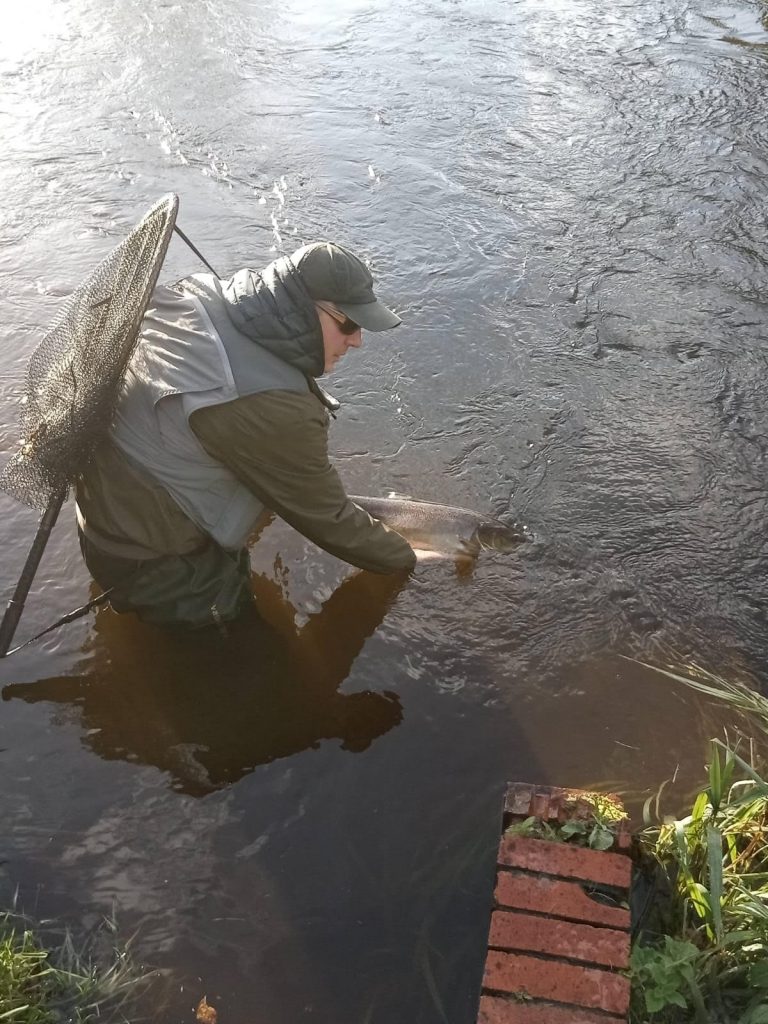 Experience Leven angler Chic MacLean continues to show how its done by landing another  lovely fish on 26th October a nice  cock fish of 7lb in full Autumn colours. Congratulations and well done Chic.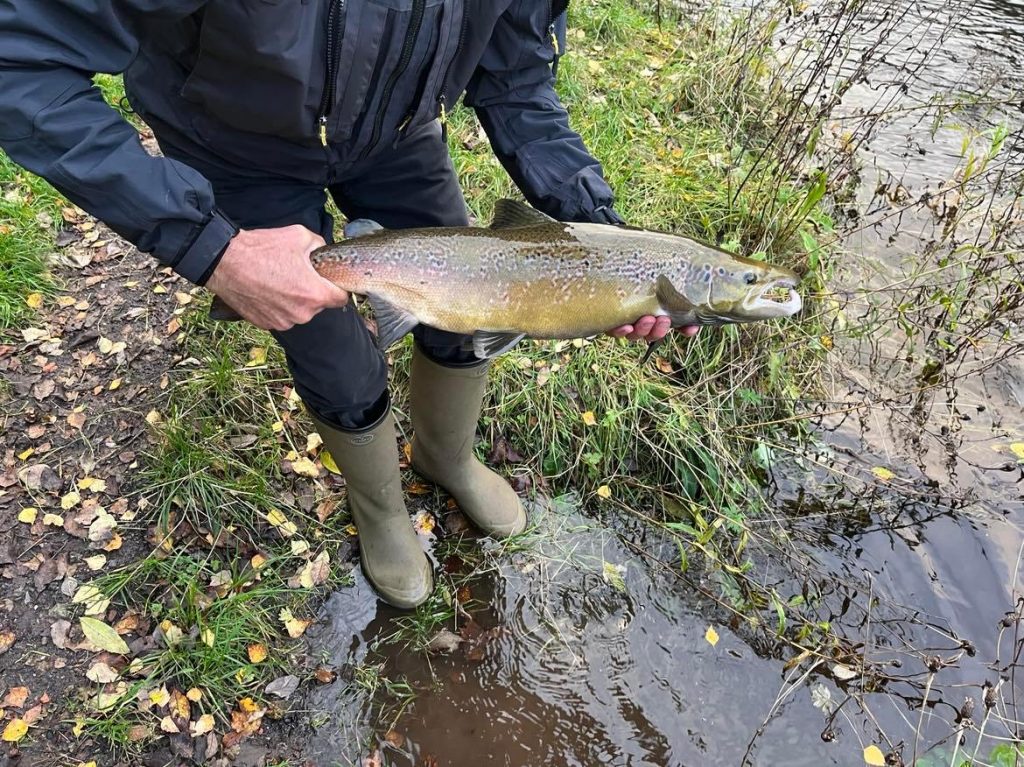 On the 27th October Leven angler Eddie Fraser landed this lovely fish on the fly just below The Stucke Bridge, very nice congratulations Eddie.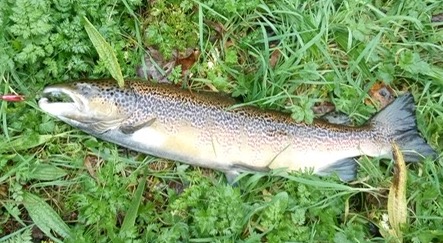 River Leven Water Conditions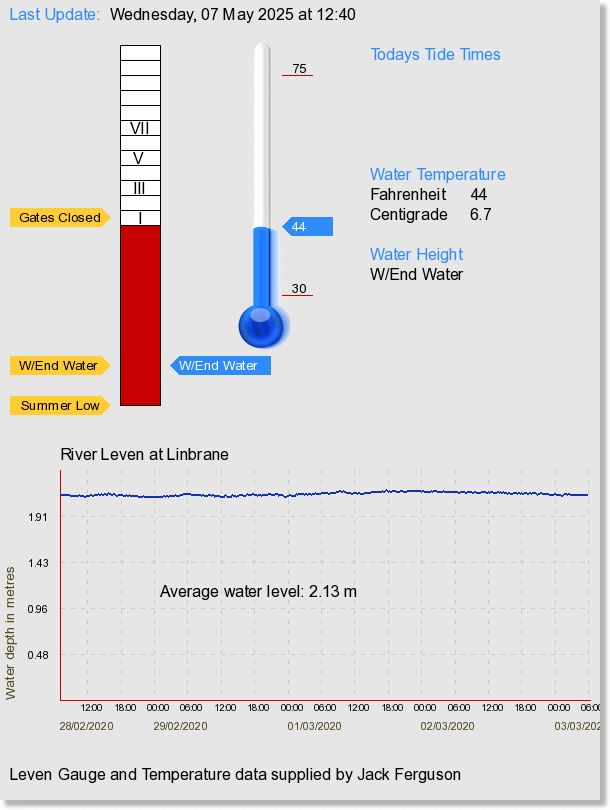 Additionally the current water gauge level for the River Leven at Linbrane can be obtained from SEPA by following this link https://www2.sepa.org.uk/WaterLevels/default.aspx?sd=t&lc=133107
Local information concerning tide tables can be found here http://www.ukho.gov.uk/EasyTide/easytide/ShowPrediction.aspx?PortID=0404&PredictionLength=7
Loch Lomond
The number of boats venturing out on the Loch has gradually decreased since the end of August with relatively few boats taking to the water during September and October. Confirmed reports of catches have consequently also reduced.
Experienced angler and guide Stuart Sutherland has been notching up some notable catched across a range of species including this stunning Ferox of around 14lb which was landed during early weeks of September. Congratulations and well done to Stuart on this fine achievement.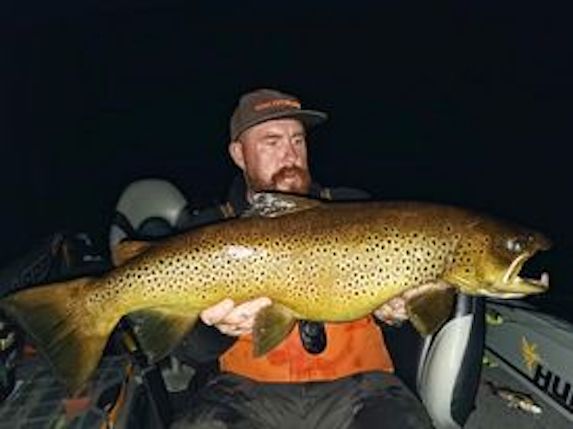 River Endrick
Catches on the Endrick have steadily increased since early September as a result of improved conditions and levels. Jamie Carruth landed a nice wee Grilse of 4.5lb on 7th September whilst fishing Cowdenmill, congratulations Jamie.
Jamie Carruth added to his success on 12th September with 3 fish, a very small Grilse of 2lb from Cowdenmill and two further Grilse of 4-4.5lb from Hunter's Stretch. Well done Jame and congratulations.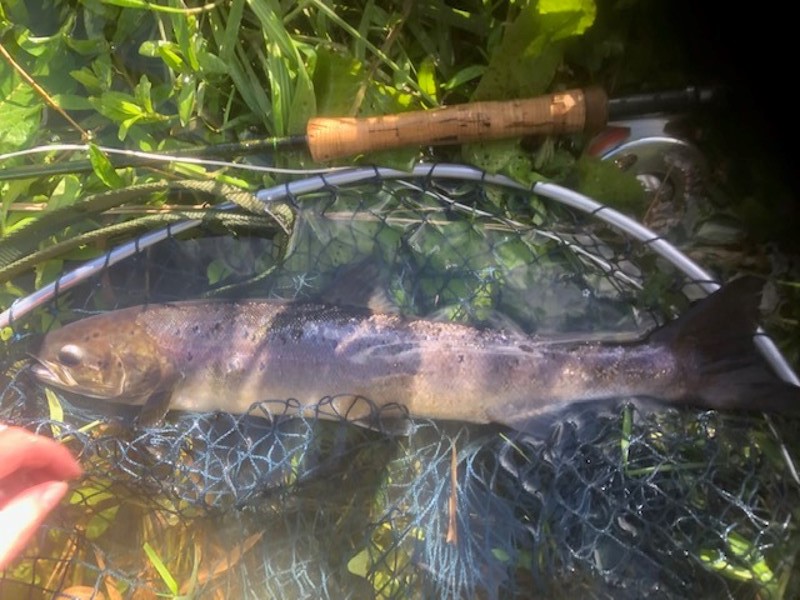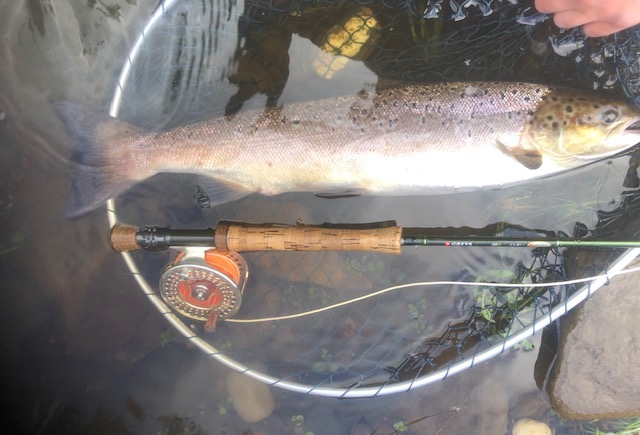 Experienced Endrick angler John Coppola successfully hooked and landed a stunning Sea Trout of 8.5lb at Barnsford also on 12th September. Congratulation and well done John.
Endrick angler Chris Turner thought he was in when he hooked a 6lb Pike at Barnsford, not sure who was most surprised.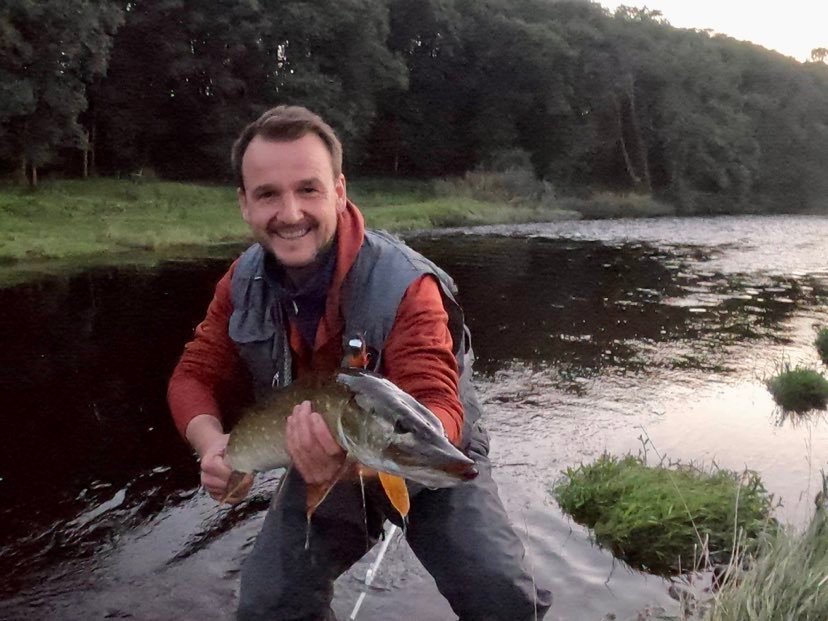 On the 7th October Endrick angler Iain MacFarlane successfully hooked and landed a Grilse of 7lb on a tube fly at The Red Brae. Well done and congratulations Iain.
On the 11th October experienced Endrick angler Colin Ferguson landed a great Sea Trout of 6lb breaking his personal best for Sea Trout. Congratulations and well done Colin.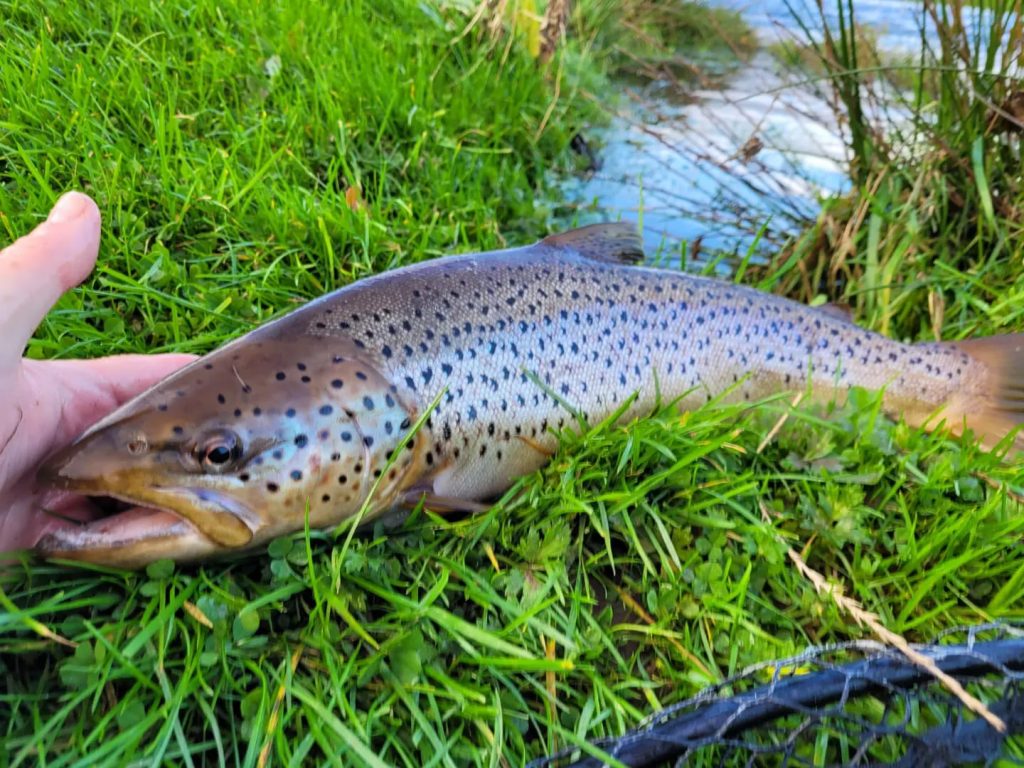 Iain Morison landed this lovely Grilse of 6lb below on 11th October on a Goat's Toe fly (dropper). Great stuff and well done Iain.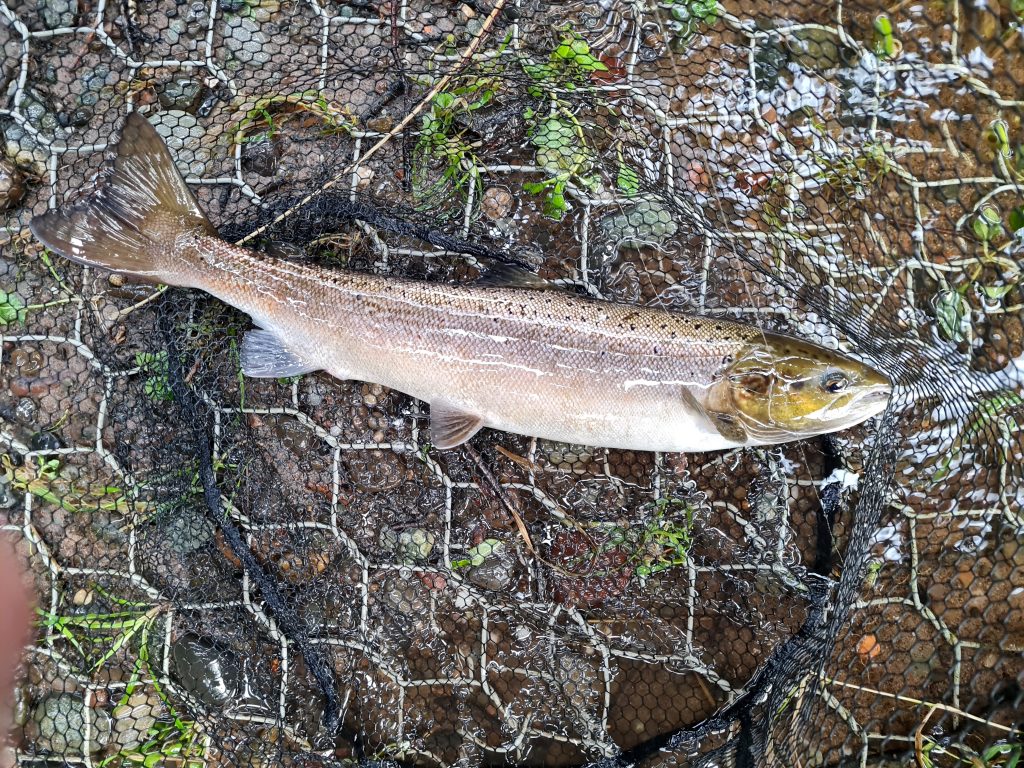 Also on 11th October angler Malcolm MacCormick successfully landed this lovely Grilse of around 6lb below Cowdenmill. Congratulations and well done Malcolm.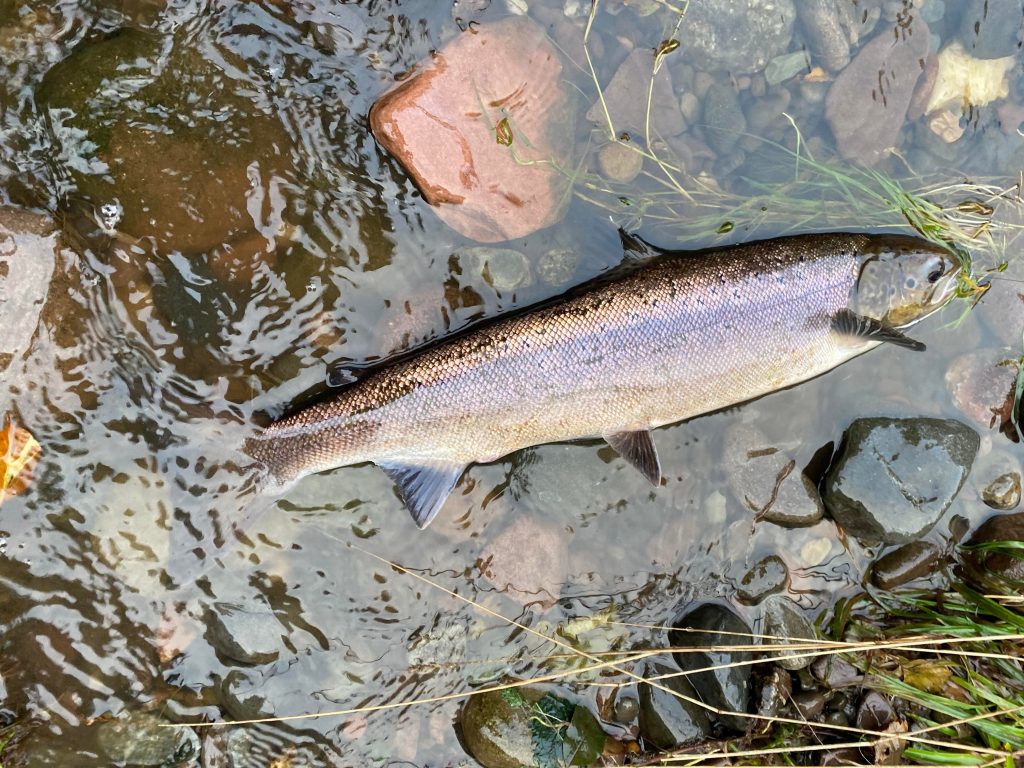 On the following day, 12th October  Malcolm MacCormick successfully hooked and landed an exceptional fish of 15lb 2oz also once again below Cowdenmill. That would have been quite a tussle on a single handed rod! Lovely congratulations and well done Malcolm.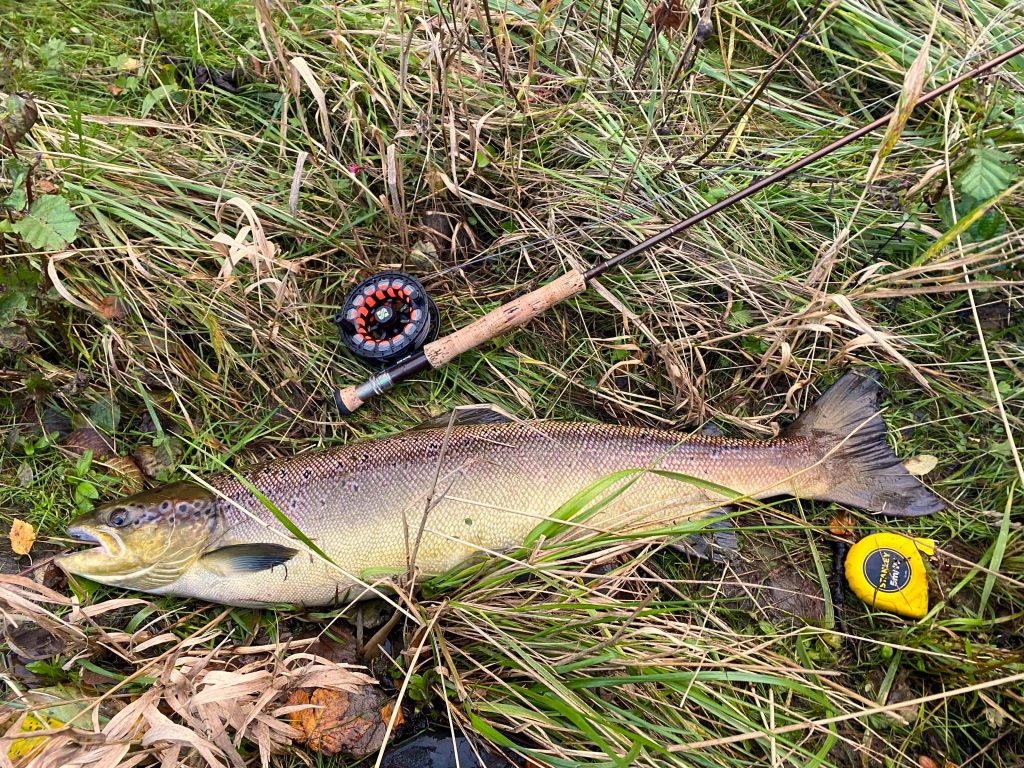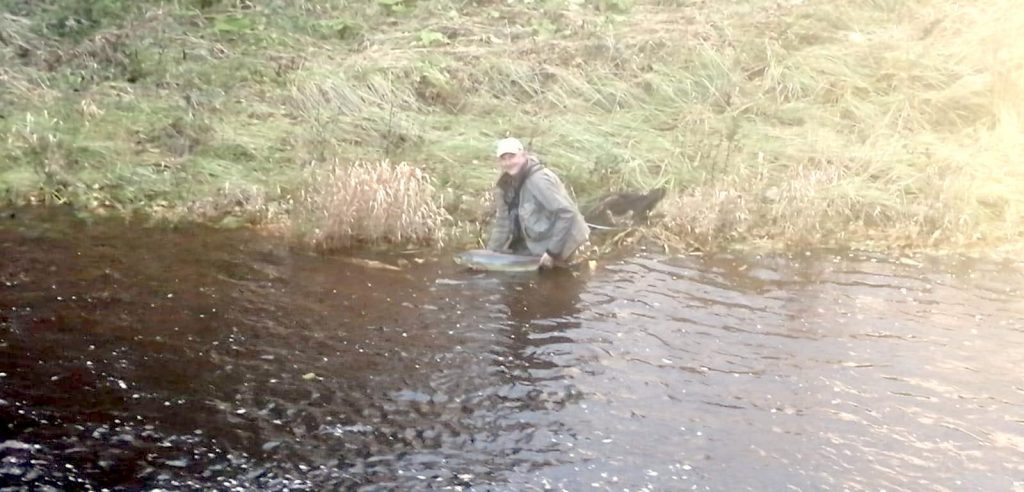 On 18th October D Steele landed a nice Salmon of 12lb, congratulations and well done. (no image)
Experienced angler Colin Ferguson landed this nice fish of 9lb at Craigbell Pool on 19th October after an energetic display of runs and acrobatics. Congratulations and well done Colin.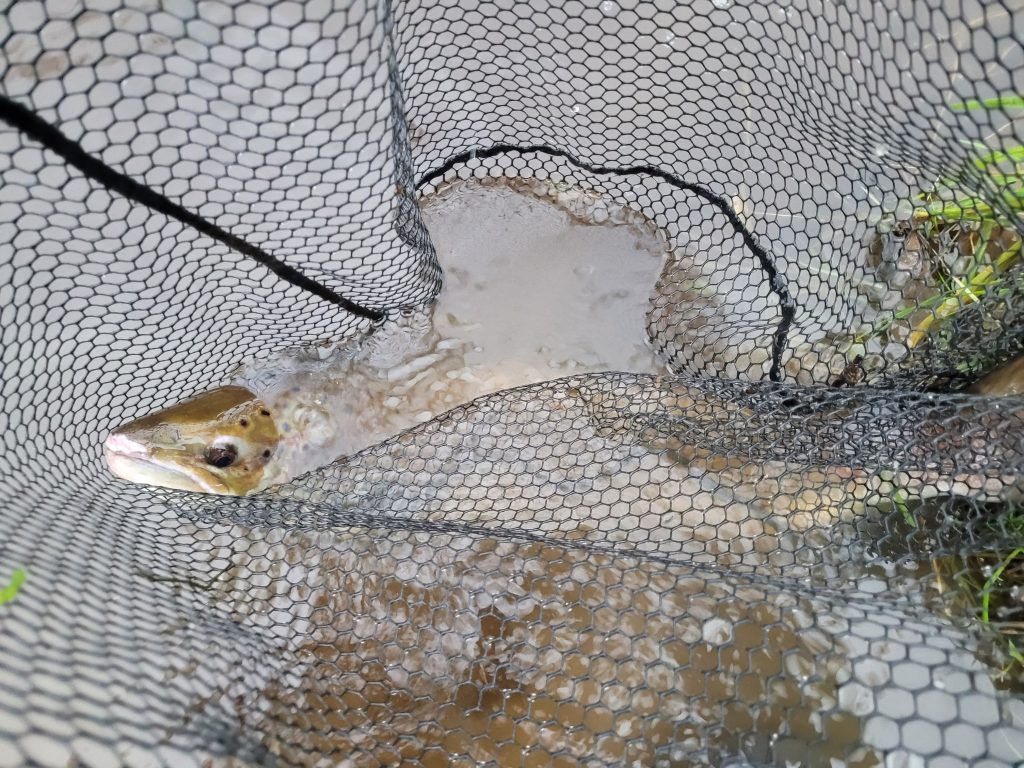 Also on the 19th October John Coppola was at it again in landing another very big Sea Trout, a truly beautiful cock fish of 10lb. Amazing and congratulations John.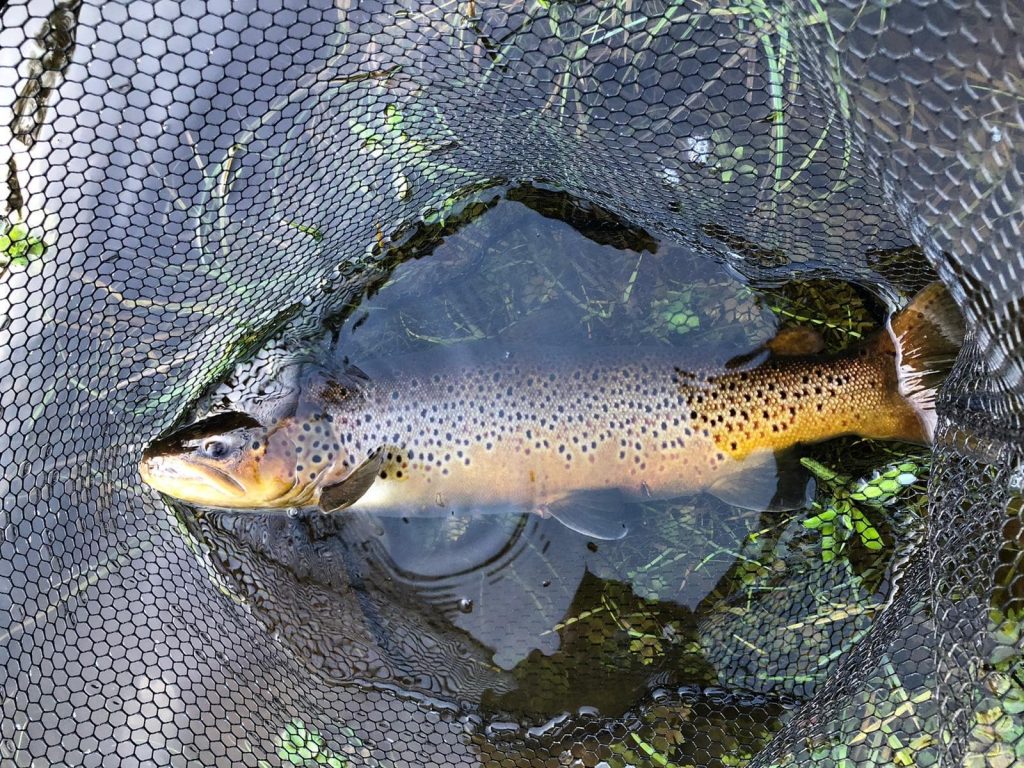 Endrick angler Lee Taylor landed this nice Grilse of around 6lb at Kiltrochan on the last day of the Season congratulations Lee, a nice way to end your season

River Fruin
The Fruin has only really started fish in recent weeks following some favourable heavy spates. On 7th October our Association Treasurer Scott Sinclair landed this wee Grilse of around 3.5lb on a red cascade at the Black Bridge Pool. Congratulations and well done Scott.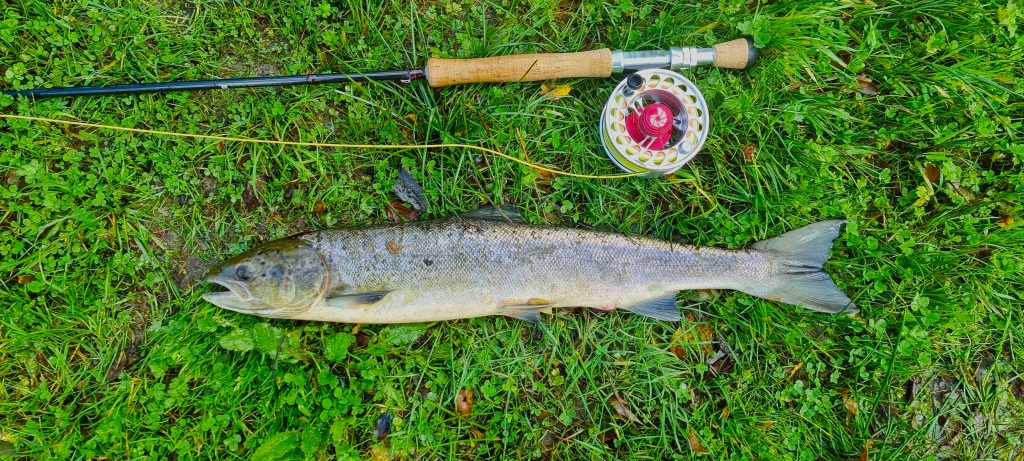 The Estuary
The anglers fishing the Estuary have continued to enjoy good sport with unofficial reports of some good Sea Trout in the 5-7lb class continuing to be landed.
Coarse Fishing
We may be approaching the end of the Game fishing season but for Coarse fishers then their season has gradually begun to rampl, up with some fine specimen Pike and other species putting in an appearance in recent weeks.
September 27th saw coarse Loch angler land this magnificent Lomond Pike near Luss. Congratulations and well done Daniel.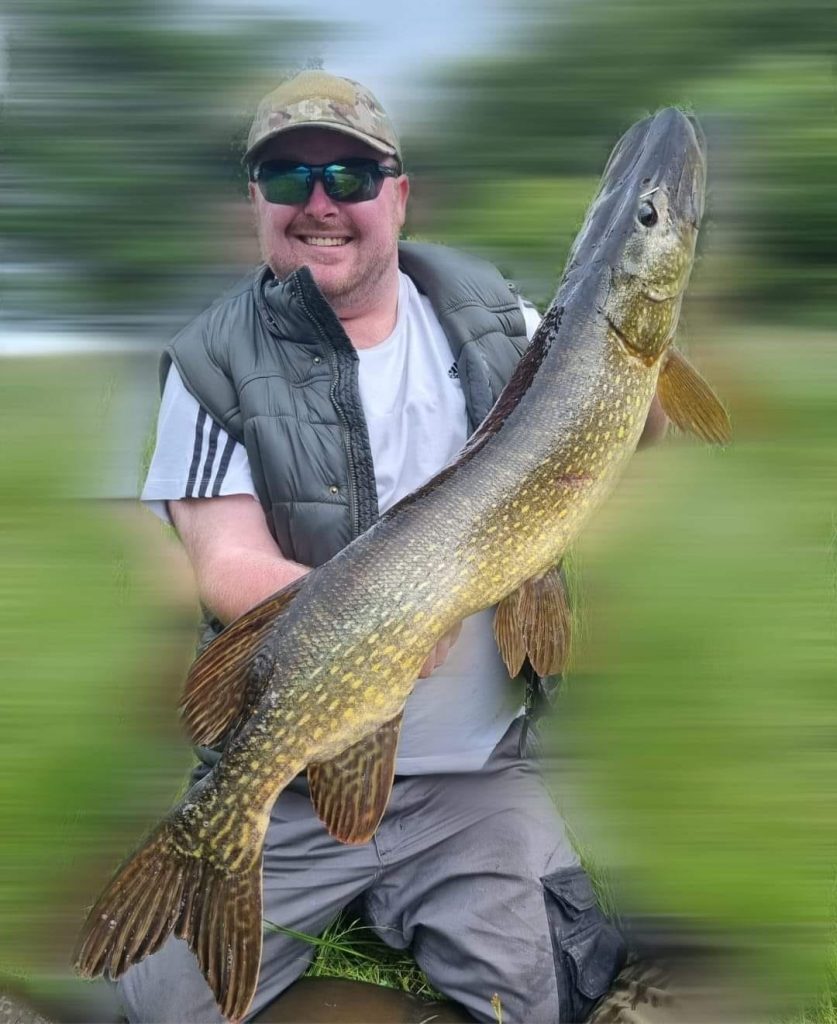 Stuart Sutherland adds to his very impressive catches with this beautiful large Pike for the young lad, congratulations to both and the smile says everything …including "it's ok I've got it!"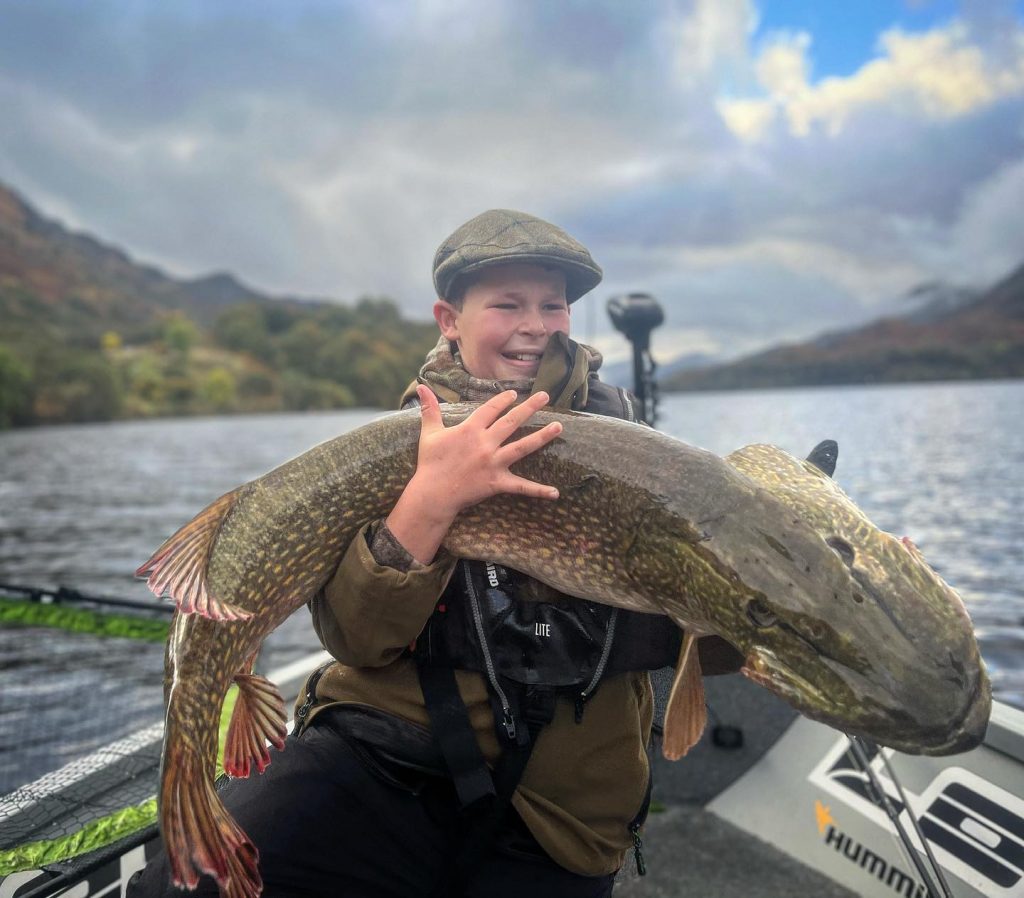 Daniel Gheorghe the LLAIA Coarse Fishing Representative was showing just 'what lies beneath' in successfully hooking and releasing this lovely example of our Lomond Pike on Saturday 29th October, measuring 99cm weighing approximately 17lbs. Congratulations and well done Daniel.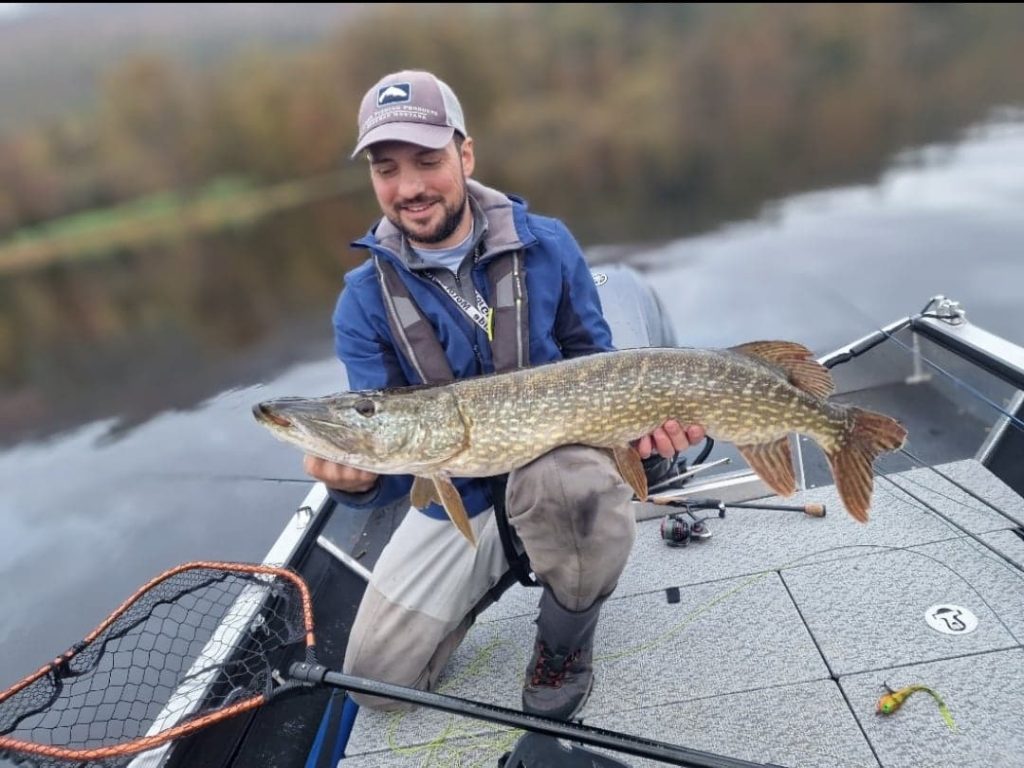 Footnote
Looking back on the 2022 Season then once more conditions have been very challenging during the Summer months in particular. There are some notable and concerning parallels with the 2021 Season in terms of very Spring conditions followed by long hot temperatures with very low water conditions across our and most systems across the Country. Anglers have of course adapted as far a possible to these challenges when it comes to Salmon and Sea Trout fishing but hopefully such conditions are not the beginning of a long term trend. Despite such testing conditions then there have been some very good catches on many parts of the system with some good larger class fish being netted.
2022 Catch Return Requirements
For those who have not yet done so we would like to remind all anglers of the requirement to complete and submit a catch return form, even for a nil catch over the season. This should be done as soon as possible to ensure data can be collated and submitted to the relevant Government department before the submission deadline. The preferred and recommended method to submit your return is to use the online form submission which is available on the LLAIA website or by clicking the link below:
Catch Return Form & Submission Link
If required then completed hard copy forms that have been mailed out can be deposited in the dropbox at VOLDAC or handed into O'Briens Store at Bonhill.