Following a long close season the first day of the of the new 2023 Season is fast approaching with the Lomond System opening on Saturday 11th February!
We wish to extend our very best wishes to all new and existing members and anglers for the Season ahead and with some lovely Spring fish being reported by other systems who have already opened then we also look forward to a successful start to our Season.
Historically we normally do not expect to see fresh run fish until towards the end of March or the start of April but with the now established changing weather patterns, temperatures and conditions as witnessed last Season then  we should "expect the unexpected".
For those who have not already done so then please avoid any disappointment by submitting your membership renewal or application in plenty of time to allow processing by your committee volunteers. Processing and postal time for Membership Applications and Renewals or Season Permits is typically 2-3 weeks and these may be submitted using the online membership/permit facilities or Permits may obtained via one of our many retailers listed on the website.
Current Conservation Policy – Retention of Salmon
For the avoidance of any doubt by any member or angler in respect to the official current conservation policy and bye-laws concerning retention of salmon on our system are as follows.
Anglers are reminded that in Scotland under Statute Law all salmon caught before 1st April must be safely returned. The Lomond system local conservation plan and Category 2 compliance requires that all salmon caught before 1st of May and after 30 September are safely returned. So anybody breaching that bye-law would not only be in breach of our association bye-laws and would be subject to a report to the Committee accordingly but Bailiffs would also reserve the right to take more formal action as angler had no written permission to kill a fish in that period.
We would also respectfully remind all anglers that Salmon and Sea Trout fishing across the system is only by means of fly or artificial lure until 1st May 2022. No form of bait fishing for Salmon or Sea Trout is therefore permitted before this date.
Treatment and handling of all fish including "Kelts"
Regarding "Kelts' then as always we would urge all anglers to treat these and indeed any fresh run fish fish with the care and respect that they deserve when playing, handling and safely returning these precious fish. As a reminder to all anglers please note that it is illegal to kill, harm or injure 'kelts'. Below is a summary reminder on best practice catch and release methods.
Respect for our System, Environment, Fellow Anglers and Bailiffs
Lastly we wish to respectfully remind all anglers to always treat our beautiful system with the care and respect it deserves.  This includes the need  to refrain from littering or leaving discarded mono, lures or other equipment, "leave nothing behind". Failure to treat our environment responsibility can cause untold damage both to the environment and reputationally.
Concerning respect we would sadly also draw attention to all anglers of the rules relating to their behaviour towards fellow anglers and our Bailiffing Team which at all times should be courteous, polite and respectful whether in person or online as per the conditions of your permit or membership.
A handy way to store and later discard lengths of unwanted mono is this handy wee gismo!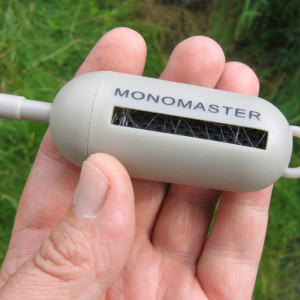 The Monomaster is a nifty little eco-friendly gadget designed to store waste nylon monofilament and other fishing line. It stores pieces of used line out of harm's way and thus keeps both the environment and your vest pockets and tackle boxes clean and tidy. No more nasty surprises in your washing machine, either!
Waste nylon takes forever to break down and is a deadly trap for many animals. Especially birds and small mammals are vulnerable, as they tend to use it as nesting material. That is why it is essential to keep waste nylon out of the environment and discard in a responsible manner: at home in the bin!
All that remains is to extend the best of wishes to all anglers for the start of the new 2023 Season! May the bend in your rod be strong and your outings rewarded.
As always please be mindful of the need for safety on and in the water at all times and finally please do continue to send in your reports and photographs of your catches or fishing day to reports@lomondangling.com so that we may share your tales and catches with others.