River Leven.
The warm, dry weather is still with us……as if we hadn't noticed. Not much showing apart from the occasional sea trout.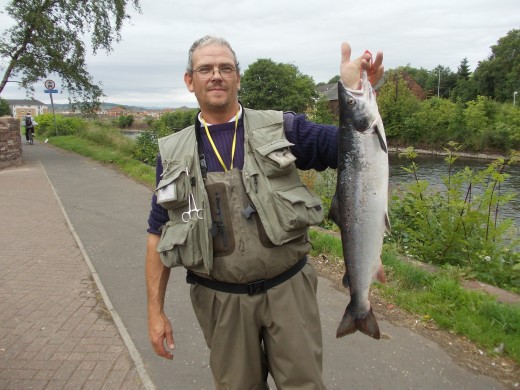 Recent catches: 5th July, John Smith (9.5lb) and 6th July, Paul McNeil (8lbs) at the Piles on the fly (above).
Anglers are reminded that only disabled drivers may use the towpath to access certain sections of the river. Vehicles must be driven slowly and care taken to give way to pedestrians and cyclists.
Loch Lomond.
On 10th July Ernie East landed a 12lb fish off Ross Priory and lost another two, at the Bank and Knockour.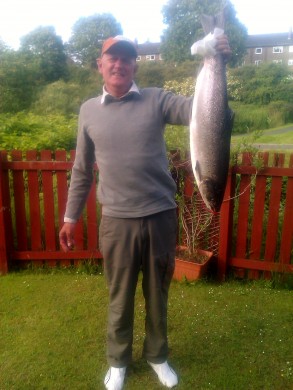 Willie Nixon with his 12.5lb fish taken off Inchcailloch on 1st July.
Loch boatmen are reminded of National Park byelaw 3.5(6) – the requirement to carry appropriate life jackets for all persons on board. The NPA have a zero tolerance policy and have recently reported several boat owners to the Procurator Fiscal. We don't think any of our members are involved.
Great Scottish Swim.
The Great Scottish Swim will take place on Saturday 24th August. This mass 'open water' event is expected to attract over 2000 participants and will be run from the Duncan Mills Memorial Slip/Lomond Shores area. Waves of 300 swimmers will set off at half hour intervals over a two mile course. This event may cause some problems for Balloch based boats. Full details are awaited.
Bailiffs.
On Thursday 11th July, three LLAIA bailiffs, assisted by local police officers, arrested two men in possession of a net and quantity of fish. They were charged with various poaching related offences and reported to Dumbarton Sheriff Court.
On Sunday 14th July, a bailiff patrol came across three men illegally fishing on the Leven. Fishing equipment was seized and a report submitted to the Fiscal.
All members and ticket holders are reminded of the requirement to tag dispatched fish as soon as possible with the numbered tags issued. If submitting photos of fish for inclusion on this website, please ensure that the tag is clearly visible.
The latest weather forecast suggests that the current weather conditions will continue until at least the end of July……….
JR
Contact Reports at : reports@lochlomondangling.com