Season 2017 Overview
Now that the first salmon has been caught on the Lomond system, some of our readers will be wondering what kind of season we're going to have. Who know's…? A few variables in the mix including rainfall and the lack of it! Let's have a look back at season 2017.
River Leven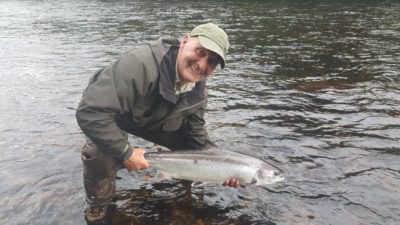 The season opened on 11th February with only the usual kelts about. A dry, slow start to the year with two springers caught in March and a further three in April, including a 22lb salmon landed by Chic McLean. At the beginning of May the main run arrived and anglers enjoyed great sport on the fly, lure and worm. When the rain came in June things moved up a few gears with an estimated 17 salmon caught in one day. The top half of the Leven was most the productive. Salmon catches remained fairly constant till the end of the season. Grilse appeared in June but with high water they didn't remain in the pools for long and catches were light.
Overall salmon catches were up by 38% on 2016 which we can partly attribute to the increase in  catch returns submitted by Leven ticket holders. Average weight of salmon up from 10.2lb to 11.4lb and the heaviest recorded was a cock fish of 25lb caught on the fly in September by Dick Dickson. Sea trout fishing on the Leven was at its best in the summer months June – August with 70-80 fish recorded each month, average weight 1.7lb.
Estuary
April and May were the best months with total of 130 sea trout caught. Catches remained steady until October when it was apparent to anglers that their quarry had moved off towards the Leven or spawning burns. The average weight of trout was 1.6lb with some specimen fish in the 5lb – 8lb range. Fly fishing has become much more popular among estuary anglers.
Loch Lomond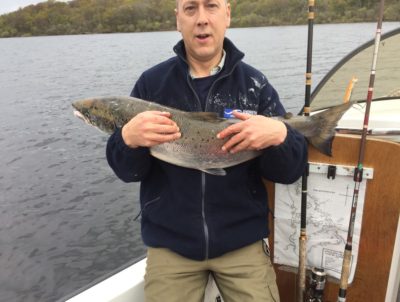 The first fish reported landed on the Loch was on 29th April, a fresh 19lb springer caught by Derek Ranachan off Balloch Park. A further 4 salmon were reported during the month. In May the main run appeared with 23 salmon caught by anglers trolling, mainly from the south east, Boturich and Sallochy shores. By early June good numbers of salmon were on the Endrick Bank with boatmen having good sport, especially around the Endrick Mouth and Stewarts Hole. The run soon dispersed and catches were made in Manse Bay, Black Rocks and Cashel. A total of 55 salmon landed during June, some anglers landing two in a day. Towards the end of July and into August Sport was fairly patchy and only a few summer salmon and grilse recorded. September and October were generally quiet, probably through reduced angling effort. Yet another year when the 'Tap End' produced very little apart from a pleasant sail. Good numbers of sea trout present especially between May and the end of August. Fly fishing accounted for two 10lb+ sea trout that received much publicity. A number of similar sized trout were caught on the troll.
Overall, salmon catches were up 14% on 2016 and the average weight down very slightly from 11.4lb to 11.2lb. Heaviest salmon from the Loch were a 20lb fish caught in May by William Smart at Pilot Bay and a 20lb salmon landed in July by David Smart at Pilot Bay. Sea trout catches up by 16% with an average weight 2.2lb.
River Endrick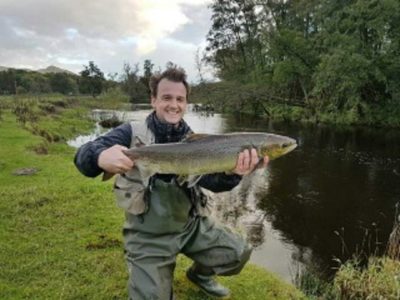 Rainfall in June brought a small run of salmon and grilse into the Endrick with sport continuing into July. Catches increased in August and the heavy rainfall in September and October provided excellent spate conditions. Good to see that angling effort has risen, but still only 10% of our members fishing the river. Some new members out on the Endrick for the first time enjoying the experience. Salmon catches were up 20% on 2016 and although the Leven and Loch show a decrease in grilse numbers, the wet back end conditions encouraged them to run resulting in a 25.3% increase in catches on the Endrick. A total of 75 sea trout landed with some 5lb -10lb specimens landed. This is the highest number of sea trout recorded in recent years but nowhere near the runs of yesteryear. In 1952 a total of 842 sea trout were recorded by Endrick anglers….a long way to go. Average weight of Endrick salmon was down slightly from 9.8lb to 9lb. Sea trout average weight 2.3lb.
River Fruin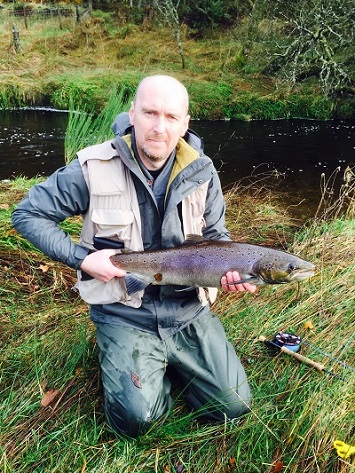 The Fruin may appear daunting to members and some have never cast a fly on it. So it was good to hear that new member Lee Taylor had success with his first Fruin grilse (6.5lb) in October. Regular spate conditions produced salmon, grilse and sea trout for those taking up the challenge. Catches during August – October similar to 2016 average salmon 8.8lb. Sea trout average weight 3.5lb.
A few happy anglers on the system last year and no reason why this season shouldn't be even better. If you're catching, don't forget to share your success with us.
River Leven  Barrage Operation.
In 2016 the LLAIA committee met with Scottish Water and Scottish Natural Heritage to agree a new water level management plan. There is still some doubt among our anglers as to what the river level should be and when. River Leven Barrage Control rules are as follows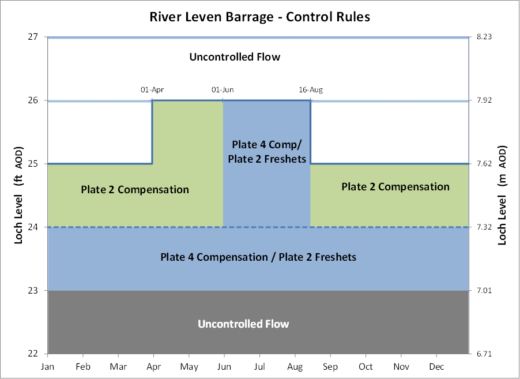 1 – ALL YEAR
IF Loch below 23ft
Uncontrolled flow.
2 – ALL YEAR
IF Loch between 23ft and 24ft
Plate 4 with Plate 2 freshets.
3 – 1st April to 1st June
IF loch between 24ft and  26ft
Plate 2 with no weekend freshet
4 – 1st Jun to 16th August (as requested by LLAIA)
IF loch between 24ft and 26ft
Plate 4 with Plate 2 weekend freshets.
5 – Between 16th August and 1st of 1st April
IF loch above 25ft
Uncontrolled Flow
IF loch between 24ft and 25ft
Plate 2, no weekend freshet.
6 – Between 1st April and 16th August
IF loch above 26ft
Uncontrolled flow
Membership Fees  Overdue
We'd like to remind our members that fees for season 2018 are now overdue..
LLAIA Constitution
7(c) Any member who has failed to pay his annual subscription by the 1st day in March in any year shall be held in arrears, and any member still in arrears by the 1st day in June in any year shall cease to be a member but shall, notwithstanding, be liable for all arrears. Members subscriptions for any season must be paid before they fish.
…..our  Treasurer would be very happy to hear from you! Please remember that it can take up to a fortnight for renewals to be processed.
JR
Email Reports at : reports@lochlomondangling.com